Avant Garde Shoes – Expressing Creativity
Art takes many forms in the world today and in this article, we look at shoes as an expression of creativity
If you've seen our "What are Shoes Really For?" article, you know we are fascinated by shoes. Writing that article, we discovered dozens of designers – established and upcoming – who push the boundaries of shoe design to create avant garde masterpieces.
They aren't constrained by functionality, but instead express creativity by experimenting with materials, techniques and the form a shoe can take. Some take inspiration from everyday objects and combine it with pure imagination. Others seem to find inspiration within, creating pieces unlike anything we could have imagined.
Regardless of where their ideas come from, the result is a set of avant garde shoes we think deserve to be displayed in art galleries. There are many out there, and this is our current list of shoes that make our top 10 in no particular order.
1. "Scary Beautiful": Leanie Van Der Vyver (fabricated by Rene van den Berg)
Leanie's view is that terms such as beautiful, ugly, sexy and scary reflect our own perceptions, and our understanding of the terms are based on assumptions and rules we've learned.  These shoes are meant to question the boundaries of these assumptions.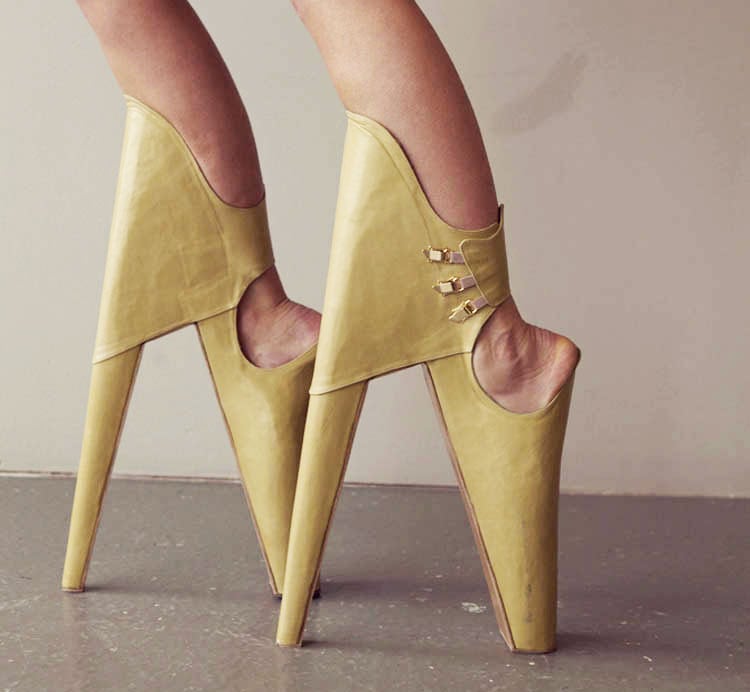 "Scary Beautiful" redefines our expectation of a shoe by forcing wearers to lean forward onto their shins into a strange squat.  As you'll see in the video of someone trying to walk in them, the result is strangely disturbing to watch.
Without wanting to rehash the question of "What is Art?", we're sure these count – not just because of their appearance, but for what they do to us emotionally.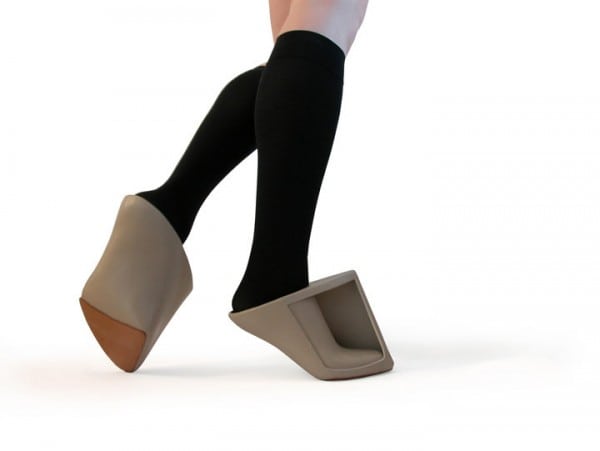 Marloes ten Bhömer has won critical acclaim for her shoes – and yes, they have been exhibited in museums and art galleries worldwide. Design critic Shumon Basar says of her:
"If the key commandment of glamorous, upscale shoe design for women is to amplify and exaggerate the curves of the human foot, ten Bhömer's shoes are riotous and sensuous sinners"
The Noheelsshoe is as much an experiment in techniques and materials as aesthetic design. According to her website, it's a "Study that explores the possible formal qualities when producing "Noheelsshoe" in rotating mould. Rotational moulding is a process in which a negative mould is filled with a small amount liquid and as the mould starts to rotate, this material solidifies against the inner walls of the mould, forming a shell, a hollow form."
This Manila based young shoe designer is a Central Saint Martins graduate and a favourite of celebrities like Lady Gaga.  He believes that
"It's a common juxtaposition in today's art, but to experience actual fear and fantasy was and still is my primary goal."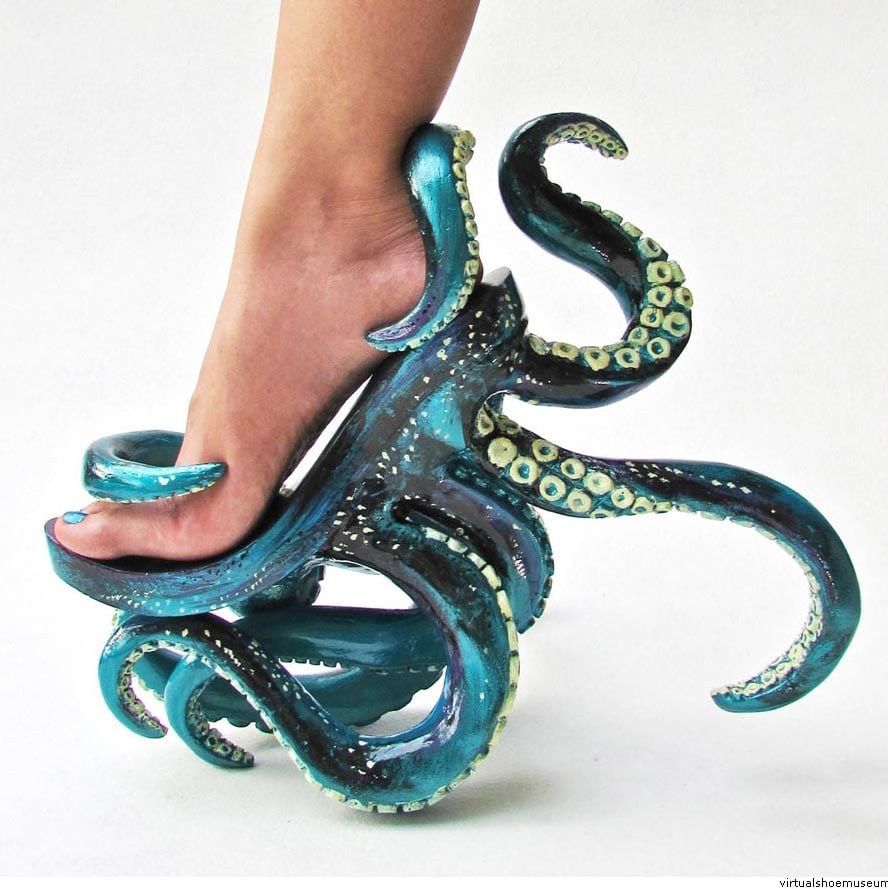 Polypodis owes its inspiration to the octopus in a tube at Norway's Munch Museum. Tesoro's meticulous sculpting of the shoe is well documented on his social media, ending with the metamorphosis into a shoe of beautiful gem green tentacles.
You won't be surprised to learn that his shoes have been exhibited in museums and galleries.
We've already written about United Nude elsewhere, so we'll just describe the UNX2 here.
UNX2 celebrates the form and mechanics of the foot by giving you tantalising glimpses of the foot itself through the shoe. According to United Nude
"The UNX2 shoe creates patterns of movement and produces a dynamic form of image-making through motion."
We felt that a shoe reminiscent of early stop motion photography and celebrates the foot deserves a place in a gallery.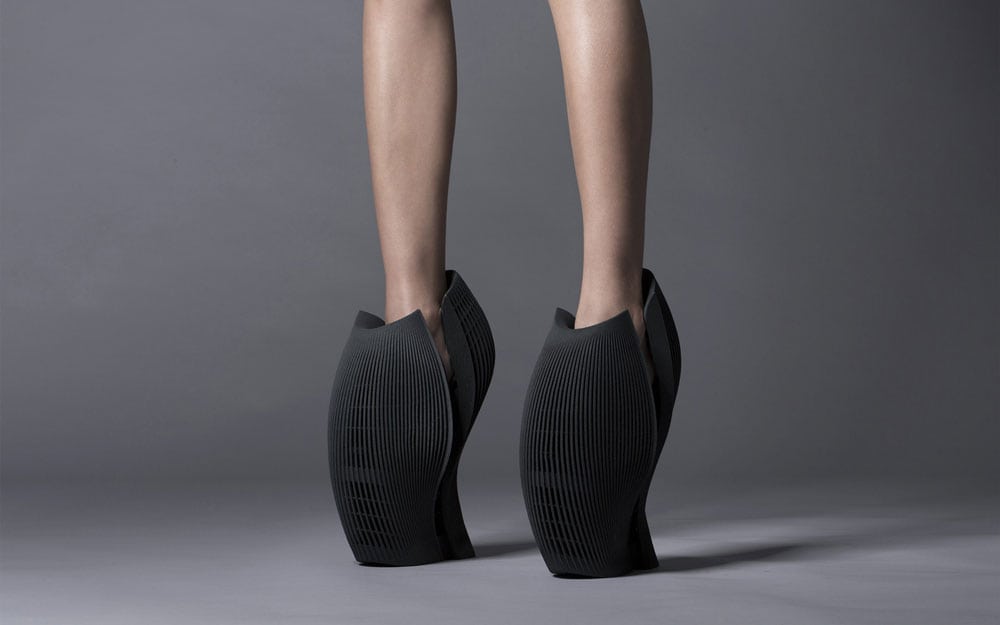 We love artists Denise & George, and could really connect with the message they recently sent us:
"For us, the shoe is an anchor point, a platform to create around".
They create such beautiful wooden shoe sculptures with every detail painstakingly and lovingly created to fine detail.
This particular piece uses walnut branches with holly ends, poplar moss with bloodwood tips, holly and poplar flowers and buds as well as madrone mushrooms.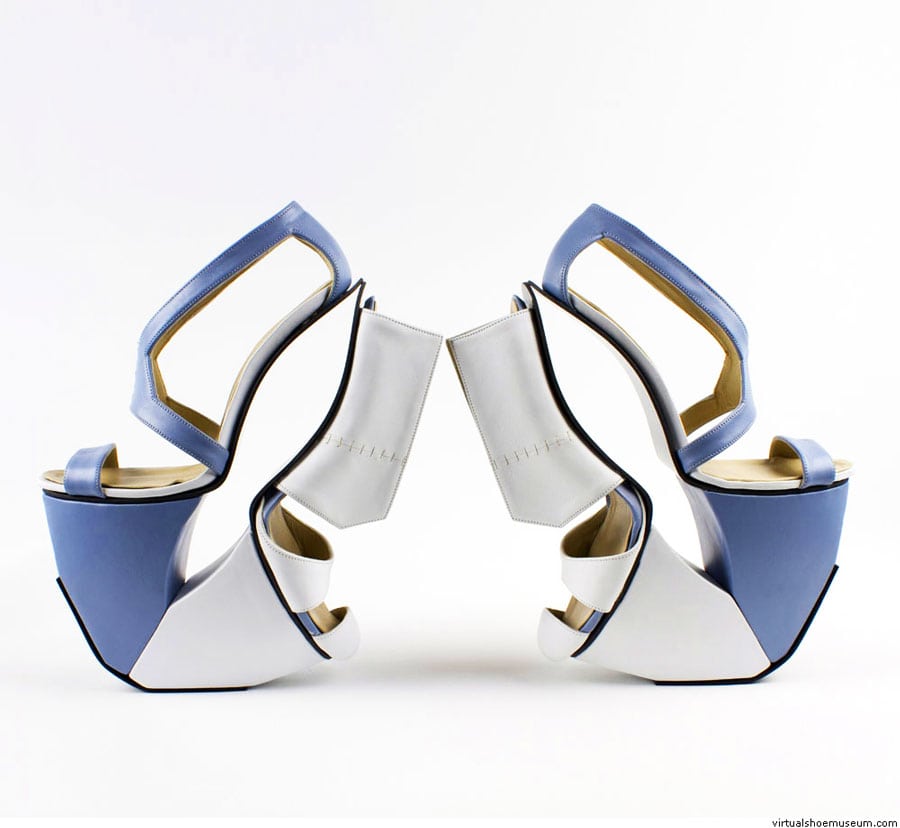 Carolin is a young Austrian shoe designer who has already achieved fame particularly for her Conjoined Illusion. These shoes are about mirroring, reflection and conjoined twins.
Carolin says she designs and makes sculptural handcrafted footwear that somehow confuses, or disturbs, or grasps the spectator for a long time.
She wants to challenge the eyes and the mind, and we believe she really does.
7. "Blond Ambition": Kobi Levi
Kobi Levi is one of our favourite shoe designers and we've been amazed by his skills in creating such a fabulous set of shoes based on very ordinary objects like bubble gum.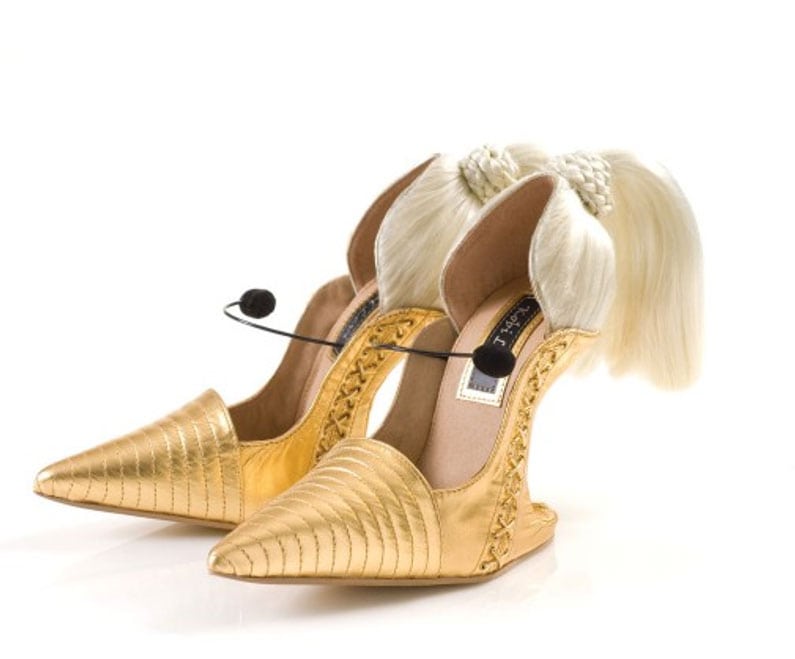 This particular shoe was inspired by Madonna's iconic look from the early 90's, wearing a cone bra corset designed by Jean-Paul Gaultier. Cute don't you think?
We learned from Anuk that ballet originated in the 15th century as a dance related version of fencing. Her collection 0 to 90° is an interpretation of ballet moves and fencing swords.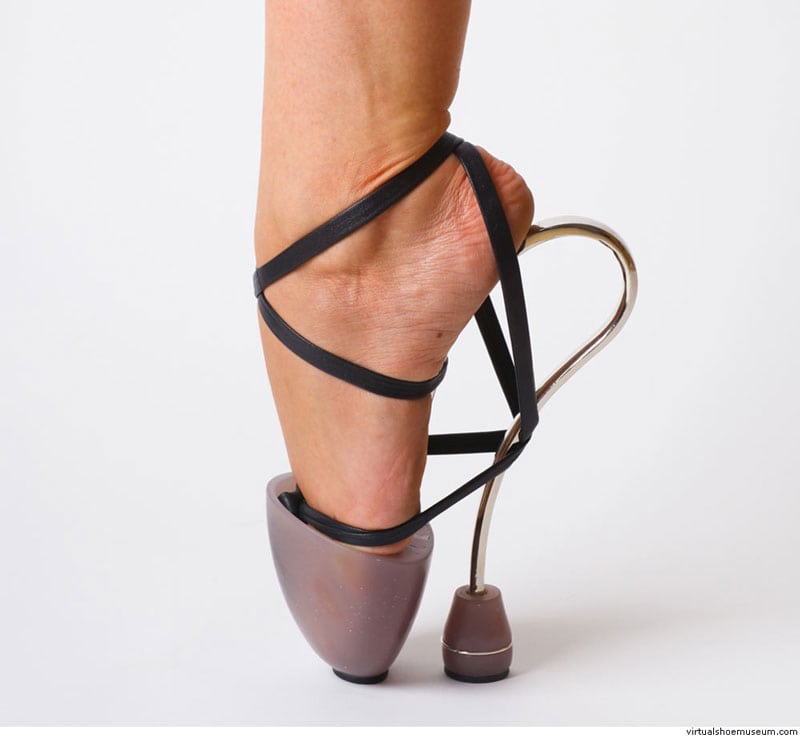 Zero degree was a flat shoe and 90° was the point. We're looking forward to asking our dancer friends what they'd make of dancing with these on their feet 😉
Regular readers will know that Peter Popps is someone whose creativity enthrals us time after time. We aren't going to say any more about Peter here, because we think he and his work deserve a separate article all to themselves.
For now, we're showcasing another pair favoured by Lady Gaga as you can see in the picture. What do you think of having shoes just to sit around in?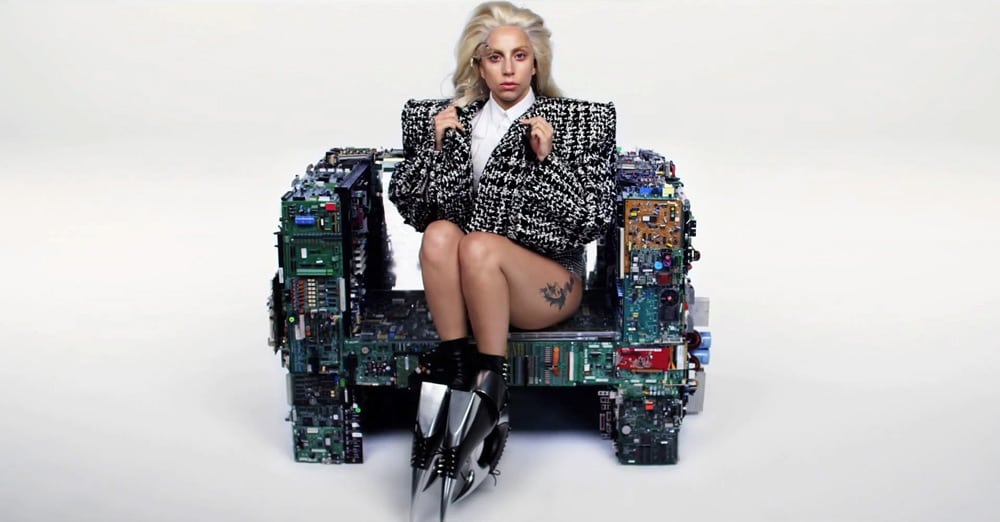 10. "The Seas of China": Javier Gasco
Javier Gasco is a Spanish Designer who teaches footwear design at the IED, Madrid.  We love the idea of a generation of new design students being taught by someone whose work makes it onto this list!
"Seas of China" are a tribute to the Chinese Lanterns set off in the sea as part of the New Year celebrations. We could almost feel the bobbing on water just looking at them.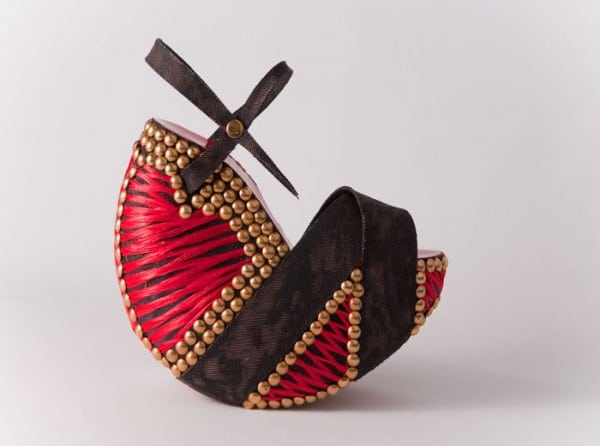 As usual with our shoe articles, we would like to thank Liza Snook and her wonderful Virtual Shoe Museum for photos and additional information.
That's it for now – let us know what you think of these via email or our Facebook page, and sign up below to get the next Shoe articles as soon as they're published.