2 Places To Design Your Own Shoes
We've developed a fascination for shoes as may have seen with our articles on "What are shoes really for?" and "Shoes that belong in an art gallery". So one of the things that happened is it got us thinking about shoes, designers and having some fun 😉
The designers we've featured have incredible talent and so let's be clear that we can't even begin start thinking forget designing the way they do. Having clarified that, if you wanted to have some fun and design your own signature shoes we decided to check to see what types of shoe we or you could create in an hour.

It's a slightly unusual indulgence or perfect for a special occasion like a birthday or wedding. Or great if you work in an office or for a girls night out or a party. Imagine people noticing the beautiful shoes you are wearing and you say it's something you designed yourself?!
So we looked around and checked out several and then shortlisted a couple of places where you can design a pair of shoes which will then be made for you. These two places are:
Shoes of Prey
Converse
If you are a shoe addict, then you've probably already heard of Shoes of Prey. Established in 2009 Shoes of Prey is an Australian company set up by Michael Fox, Jodie Fox and Mike Knapp. Jodie Fox explains how the concept came about
"I'd always liked shoes, but I never loved them because I couldn't find exactly what I was looking for. Either it wasn't quite the right colour, there was an embellishment I didn't like, not quite the right heel height."
"When I was travelling … I found someone with whom I could commission shoe designs. My shoe collection became really exciting, and my girlfriends asked me where I was getting my footwear. When I explained, they asked me to create shoes for them too. Concurrently, my two business partners Michael and Mike were at Google and they became really excited about the opportunities in online retail. We all came together and Shoes of Prey was born."
Easy to use website
What we loved is that their easy to use website means that you can design a pair of shoes in an hour. Or if you are a little bit like us, you can spend hours just designing and dreaming 😉 😉
There are lots of options in terms of the type of shoe, and then you can spend as much time as you want browsing through the gorgeous colours and material for the shoe, the straps, the soles, the trim, the back, the toes and more.
You can then add a couple of things to standard shoe design to really make it your own whether it's a ruffle at the back or a bow in front or a custom inscription on the sole.
Bridal shoes
A wedding is one of the typical reasons women flock to Shoes of Prey. We asked Shoes of Prey to tell us about some interesting examples of shoes that have been created through them.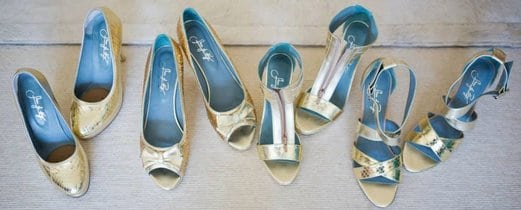 One bride picked the colour for the shoes for her bridesmaids. But then each bridesmaid picked her preferred style, and then the interesting bit was that the heights of the heels of the various shoes were adjusted to reduce the height difference amongst the bridesmaids! How's that for a reason to design your own shoes?
Inscribe a special date or message
Shoes of Prey also told us about why they started offering custom inscription options on the sole. "We started offering custom inscriptions after a gentleman named Daniel reached out to us.  He wanted to propose to his shoe-loving girlfriend in a special way, so he approached us and asked if we could stamp his proposal into his girlfriend's shoe.  We've now incorporated this offering into our range, and it's a very popular option amongst our bridal customers."
Some ideas
So here are two examples of shoes that we created using their website. The first one was wild and whacky to make a statement on a girls' night out! What do you think of them?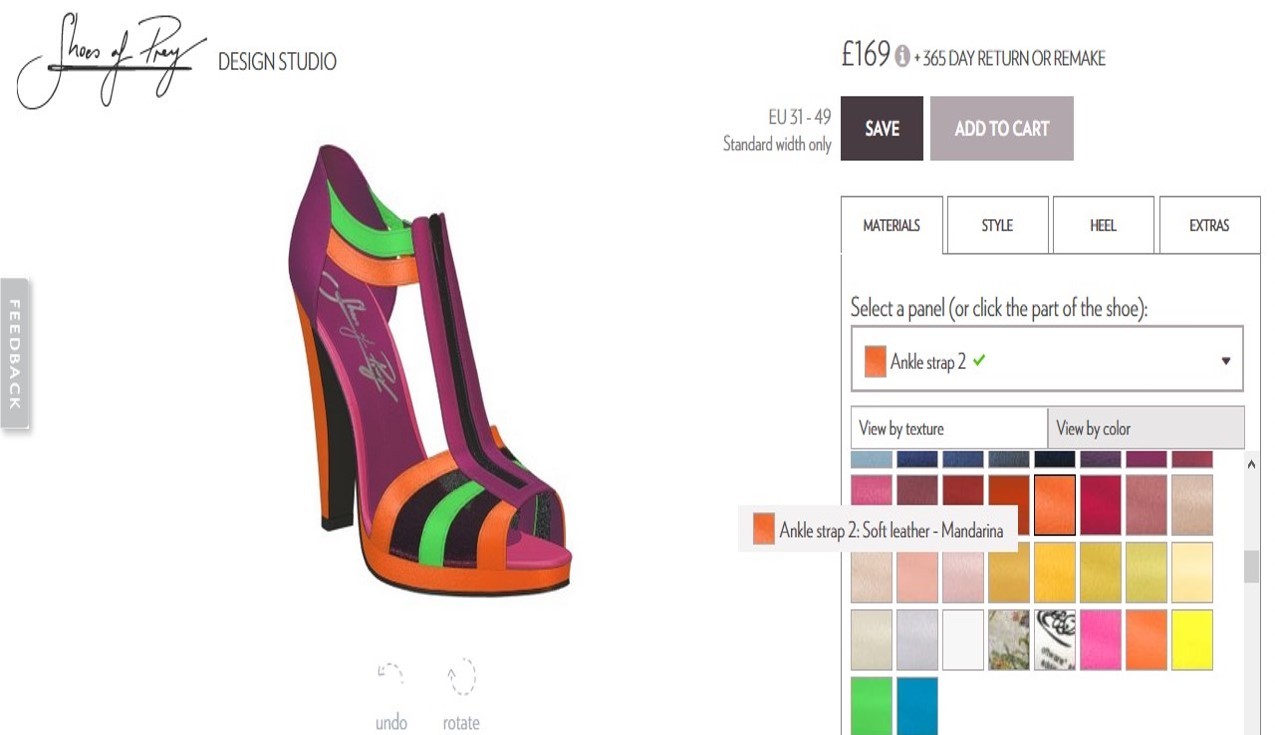 The second pair we created was for the office. Distinctive, subtle but stylish was what we were aiming for. We loved them!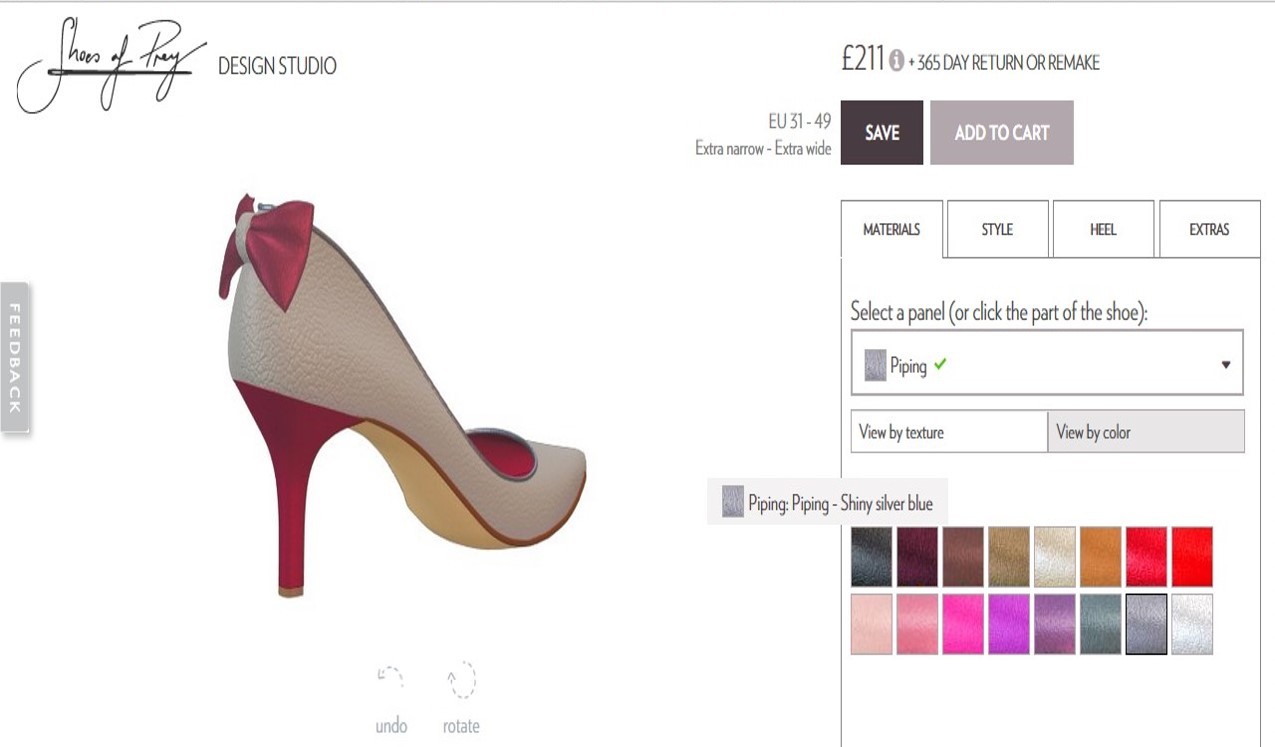 You also see the price of the shoes in the picture, to give you a sense of how much each one could come to.
They also do have some designs on hand already for you to quickly customise or order as is like these zebra shoes for instance.
Perhaps it's how we are wired, but we'd any day prefer to have a pair from Shoes of Prey rather than a standard designer shoe ;-). There's something about knowing not many women will have a pair like ours!
Custom trainers for < £75
Trainers have become a kind of global uniform, particularly with jeans. So what excited us about Converse is that you can design a pair of your own signature trainers for under £75! Converse is 100+ year old company that was acquired over a decade ago by Nike. It still creates its own brand of trainers and sportswear type shoes.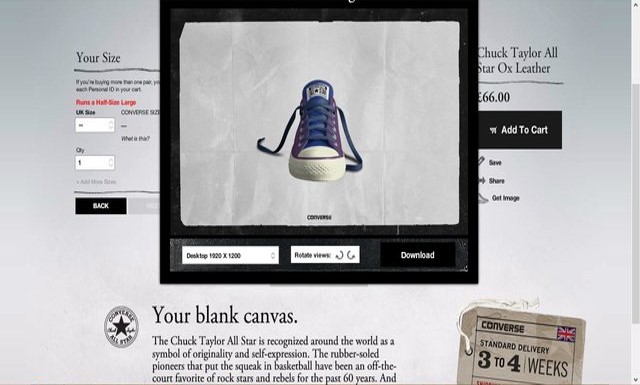 What we loved was that the starting price for the Converse custom designed shoes was £54. So it's very affordable if you are into their type of trainers.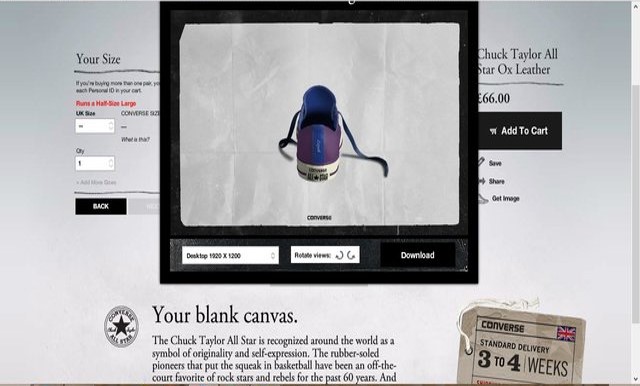 Coordinate the detail
There's rather a limited set of colours and prints on the different types of trainers they offer but still great given the price point. We liked the fact that we could add initials to the shoes, the lace and stripes and stitching could be coordinated or contrasted according to one's taste.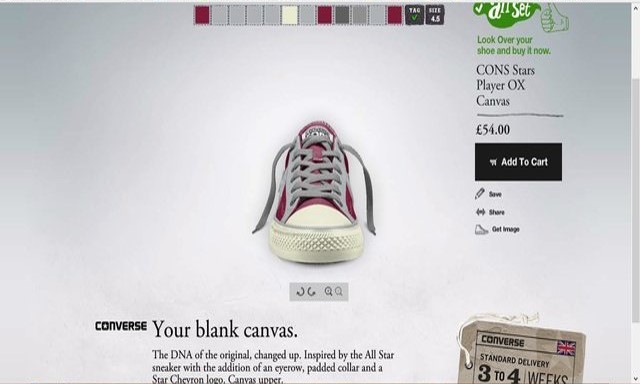 So here are two shoes that we designed on their website.
Custom shoes – why not?
When there's so much fun to be had in choosing every aspect of your shoes and it doesn't cost the moon as you can see from our examples, the next time you are considering buying shoes, why not look at playing shoe designer for a short time?
Note: All images courtesy Shoes of Prey and Converse