Blue Gemstones – Lapis Lazuli & Turquoise
At Zayah, we're great fans of blue in general, and for jewellery in particular.  It's at the heart of some of our most popular gemstone necklaces, and it's a great colour to incorporate into your work wardrobe, especially if you can add a twist to this most widely used corporate hue.
Several customers wanted to know more about some of the blue gemstones we use, so we put together this guide to two of our favourites – one dark and the other light. Lapis Lazuli is a wonderful dark blue, while Turquoise is typically known for its calmer, more tranquil shade.
Lapis Lazuli
Lapis Lazuli is usually called lapis, and composed of the mineral Lazurite. The darker the blue of the, the more valuable the gemstone. Traces of Pyrite give it sparkly flecks from within, making it very attractive compared to solid coloured materials.
Lapis traces its history back over 6,500 years to ancient civilisations of Mespotamia, and was also used by the ancient Egyptians, Romans and Greeks.
Badakshan in present day Afghanistan is one of the areas rich in Lapis and has one of its oldest sources. John Simpson wrote an evocative piece about Lapis gemstones in Afghanistan in the Telegraph earlier this year.
We were taken by a couple of ways lapis was used in ancient times. The golden sarcophagus of King Tutankhamen was inlaid with beautiful lapis; and powdered lapis was extensively used by Roman, Persian and Chinese women to paint their eyebrows.
From outer beauty to inner qualities, Lapis is believed to enhance the mind and aid in the process of learning – even problem solving. It is also believed to give relief from suppressing emotions such as anger, instead providing acceptance and increased self-awareness.  Some say it enables you to take charge of life, others say it can help balance our physical, mental, emotional and spiritual wellbeing. Finally – and to us most intriguingly of all – lapis is seen as a protector from evil in many parts of the world.
Much as we'd love to, we don't guarantee that our lapis jewellery will do any of the above for our customers 🙂
Turquoise
Turquoise is one of the oldest known gemstones, revered by the ancient Egyptians. Called 'Fallen Sky Stone' by Native Americans, it has been valued by many cultures as a protection stone including Tibetans who have considered it important to carry it all through life.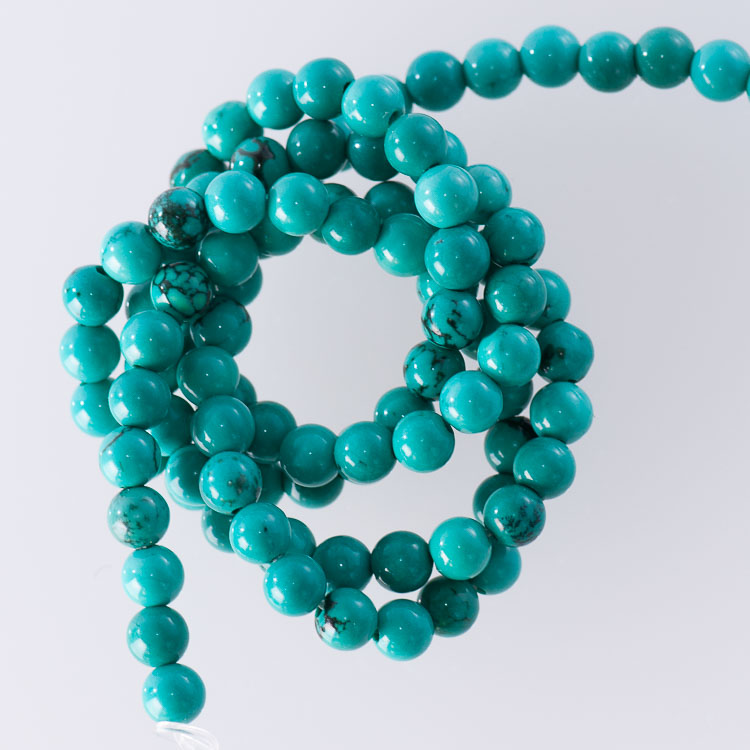 The name Turquoise was derived from the French word for "Turkish" because the mineral was first brought to Europe through Turkey – although it was originally being brought from Persia!
While sky blue is often the colour that most people associate with Turquoise, the gemstone appears in blue-green, and there is an extremely rare apple green form of the gemstone.
If you're familiar with birthstones, you'll know that Turquoise is associated with the month of December. Turquoise was a fashionable gemstone in the 1960's and 1970's but then saw a decline. But as with all fashion cycles, it's just been a matter of time, and turquoise has enjoyed a bit of a revival in fashion circles in recent years.
Turquoise is thought to be symbol of generosity, sincerity and affection and is believed to bring good luck when given as a gift. It is also believed to help in problem solving.
Jewellery Using Lapis & Turquoise
Here are some of our favourite pieces that use these stones – a couple from us, but mostly from designers whose work we admire from around the world.
You can find out more about these pieces
We'd love to hear your suggestions for jewellery and designers we should get to know better or you'd like to hear more about.
---
This article was first published in 2014, when the Zayah Boutique featured an "I've got the Blues" theme, celebrating blue jewellery in all its splendour and beauty.
---