When we were deciding what to see during LDF15, we were curious to see a new Design District listed in the programme – Bankside.  We knew of it as the home of Tate Modern, and have noticed the increasing number of interesting places to shop, eat and drink in recent years, as well as the ubiquitous cranes and construction sites.
But despite living in London, we weren't even quite sure what counts as Bankside, or what goes on there.  We certainly hadn't considered it as a place to spend a day exploring new art and design. Turns out it's been our loss!
So we put things right on a September Saturday, and discovered a new place to explore in future.  This article takes you through what we found, and our take on the glimpse we saw.
If you don't know of the area, then we highly recommend adding to your list of places to visit.  As a relatively new district, it's evolving rapidly, with a team working to develop it over the long term.  We're looking forward to our future visits.
What is Bankside?
The catalyst for Bankside raising its profile came in 2004, when the UK Government started to develop "Business Improvement Districts".  This was an initiative to create better places for local communities to live and work, by focussing investment into defined areas with local business.
This concept for creating better life for a community had worked well in US, Canada and South Africa, and Bankside was the third BID in the UK.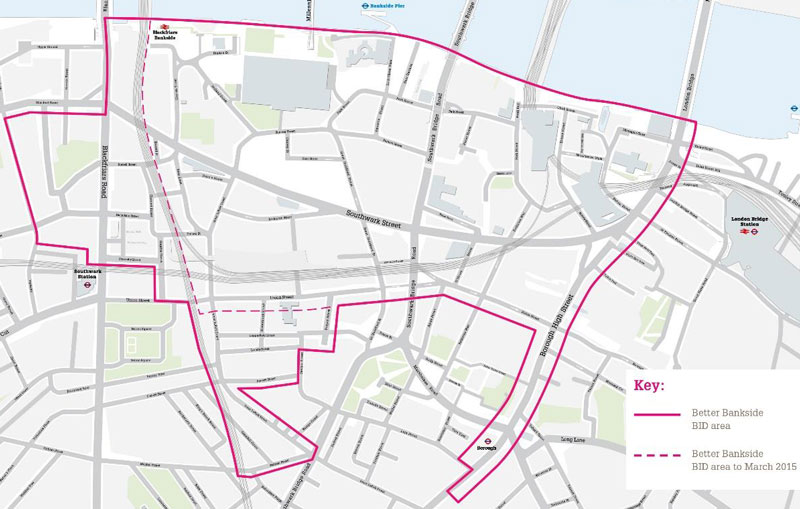 Bankside was defined as a stretch of London south of the Thames, bounded approximately by 4 stations: Waterloo East, Blackfriars Bankside, London Bridge and Borough High Street.
While it contained some notable places, on the whole it used to be somewhere you'd pass through on your way somewhere else, unless you happened to live or work there.
You can find out more about how Bankside has been transformed, and the future plans of the area from Better Bankside, the non-profit company behind this ambitious and fascinating programme.  We'll see if we can fit in a future article that delves into more detail, and perhaps interviewing some of the local artists and organisers.
What Did We See?
We used our LDF15 Guide to shortlist a set of things that sounded both interesting and close together, and set off towards Oxo Tower Wharf as the epicentre of our day.
Curiously, we've found since then that the set of exhibitions we saw around the Oxo Tower don't seem to be technically within the defined boundary of Bankside . . . (?)
The Oxo Tower dominates physically and in other ways, and hosted a series of interesting-sounding events during LDF and throughout the year.
It's also home to a set of galleries and shops as well as restaurants and bars.
However, we found the area around it more to our mood.
We particularly liked the bit that appears just before you turn a corner into the expanse of shops and galleries of glass, concrete, metal and wood.
There are a slightly run-down looking set of building fronts that we found easy on the eye, and easy to overlook.
There's a curious appearance overall, with parts deliberately left "tatty".  As you turn in, one of the first sights is the rusting hull of an old boat sitting patiently to one side of the shops . . .
Here are a few of our visual memories of the day: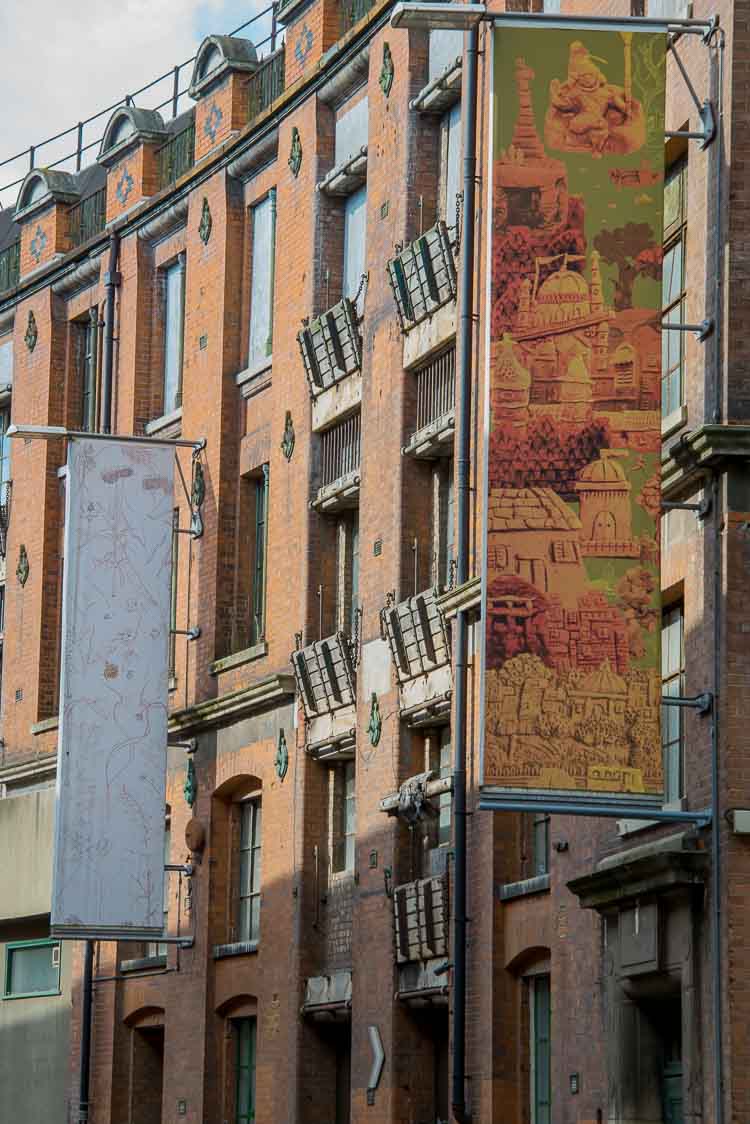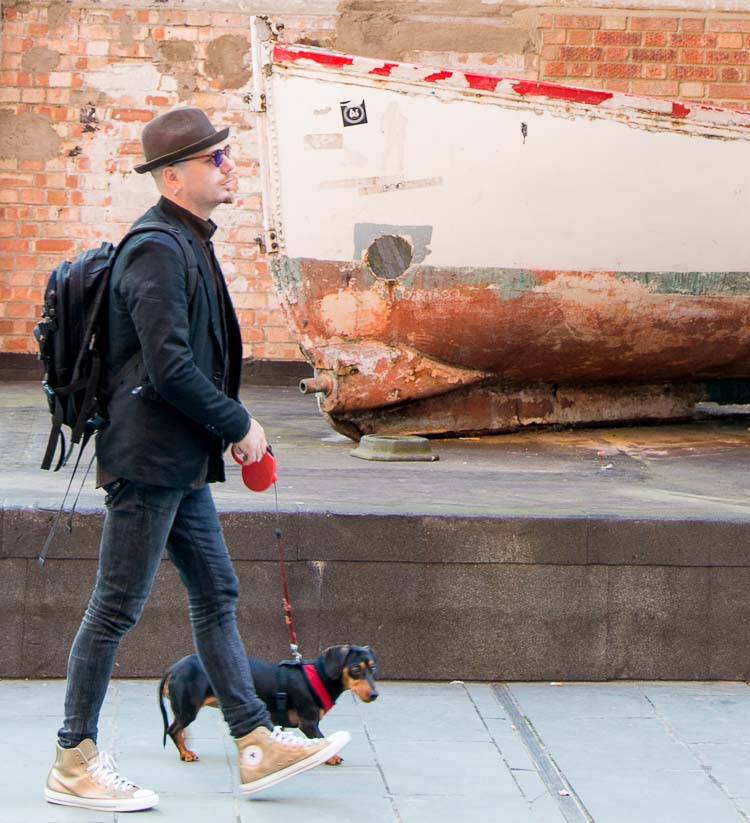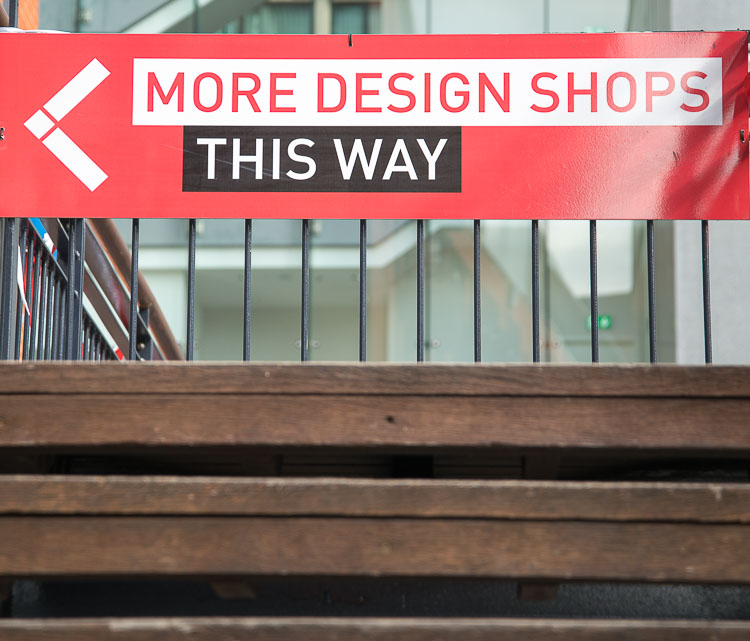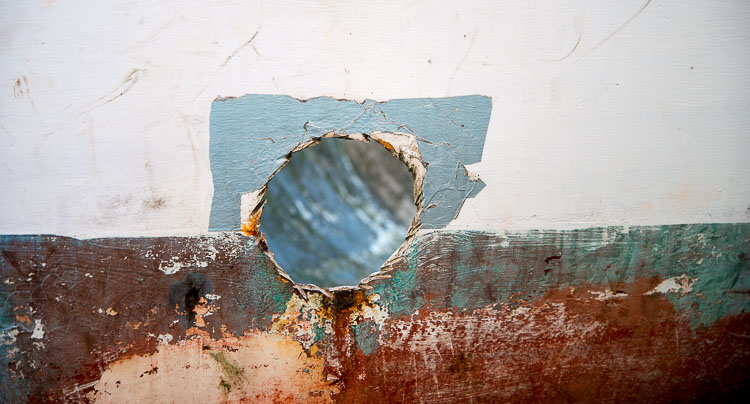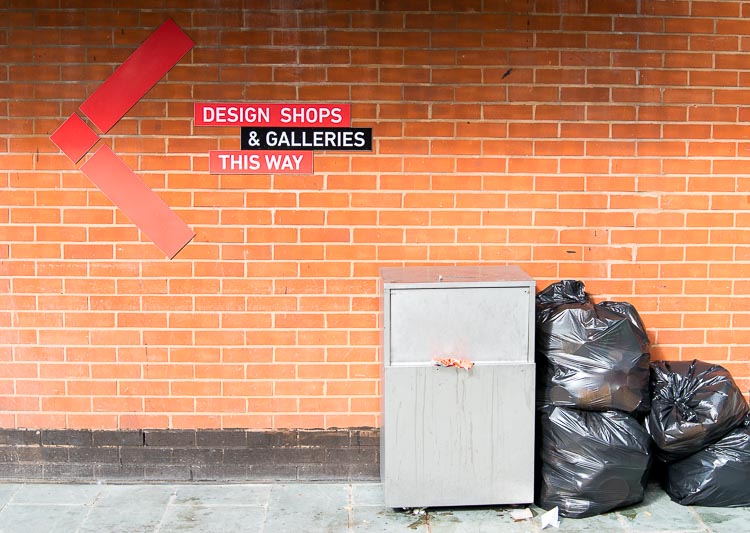 What About the Exhibitions?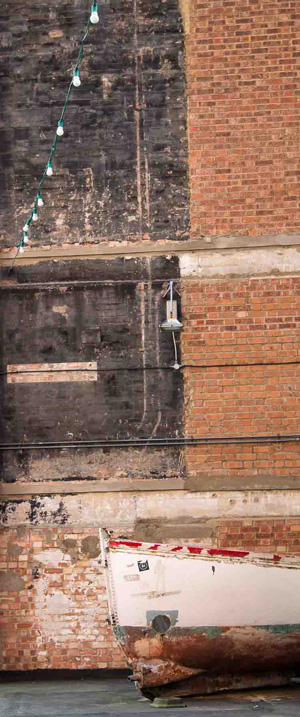 We'd always recommend visiting places during LDF, but we would equally strongly suggest you go back to the same places during more "normal" times, to get a better feel of the venue's character.
We felt a slightly artificial atmosphere at Bankside during LDF, almost as if people are trying just a touch too hard.  And that included the attendees as well as artists and organisers!
But that doesn't get in the way of some thought-provoking work and the opportunity to see things you'd never normally stumble across.
We went into quite a few galleries and shops, and thoroughly enjoyed what we saw. Rather than overloading this article, we'll publish an article on some of our highlights shortly.
In particular, we found an exhibition of the work of some students, which we found intriguing.  More on that another time, but it did make us think hard about the difference between work from students vs work from more established artists.  Our debate was about whether you should take into account that students are just starting out, and if so, how you do that while experiencing their work.  We're still working out our views on that one.
For now, we'll close with a map from the folks at SLAM – the South London Art Map.  They provide a phenomenal resource through their website, where you can discover a whole set of places to visit, tours to attend and useful information to indulge your art fix pretty much any day of the week.
The map shows just how much there is to see in South London if you want to experience art in all its forms, and includes Bankside's many venues.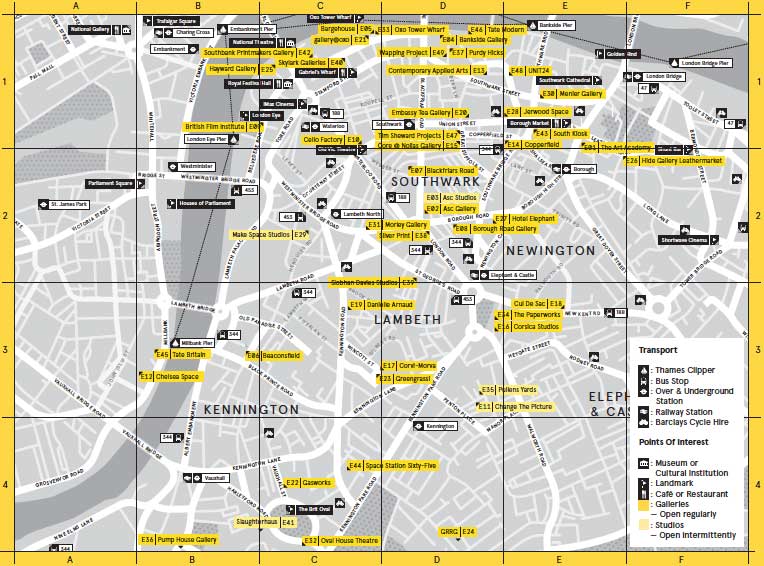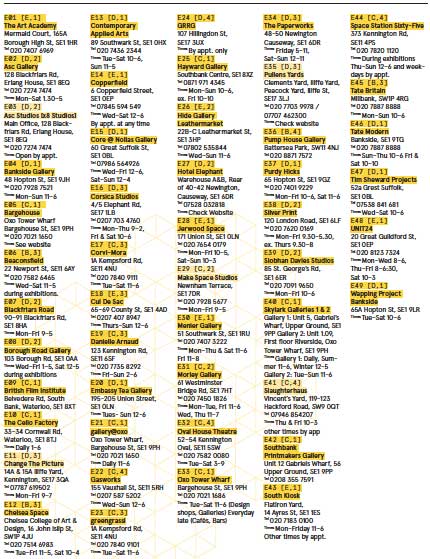 If you do want to walk around the area, we'd suggest you take a look at the many guides to the area and explore slightly further afield.  The guide we used was from Guided Art Walks, and added some great insight to our journey to and from our destination.
That's it for now.  Don't forget to sign up to get the new articles we mention above as soon as they're out.  And of course all comments welcomed via the Zayah Facebook page.  Just click the share button below and tell us what you think.