As she watches this beautiful woman preparing to start her own life, she recalls her daughter's  journey from infancy through teenage years.

The mother of the bride experiences such immense joy, pride and hope for the future.
The bride's mother plays such a key role at her daughter's wedding and her attire for the day certainly will be noticed by the guests. Of the million things to take care of when your daughter's wedding is planned, what you both wear on the big day is high on the list.
You will of course want to look your best, but don't (hopefully!) want to take attention away from your daughter.
When going through a whole list of options, it's easy to be a little unsure on what would work. Here are a set of ideas that we hope will help choose what will complement your look for the day.
1. A classic pearl rope conveys elegance and dignity
If you don't have one already, this is a great time to invest in good quality pearls that will last a life time. Cultured pearls today come in a wide variety of pastel shades such as white, cream, peach, pink, lavender, silver, gold and darker colours like black, brown and green and you can contrast or complement with your dress for the day.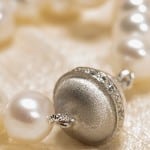 Depending on your budget you can look at making a statement with a classic pearl rope with an eye catching clasp. A norm with pearls is that the larger they were, the greater the sign of accomplishment and maturity of the woman wearing them.
So the bigger the better for the mother of the bride 🙂 Beautifully hand knotted on silk pearls are such a sign of elegance and dignity and you certainly will feel this on the day.
2. Pretty Pendants Never Go Wrong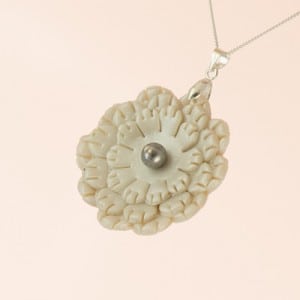 If your attire in general is making a statement, a safe option to complement the wow dress or that glorious hat is with understated jewellery. In this case, a pretty pendant can never go wrong. As you pose with your beloved daughter and son in law, a pendant that is unusual will receive compliments from the wedding guests.
Does silver or gold go more naturally with the colour of your dress? A specially made for you pendant to perfectly match your dress is one option to consider. And again, either a contrast colour or matching colour will work well depending on the overall impression you want to create. Complementary colours is more conservative and traditional, contrast colours shows you are a modern mum!
3. Make a statement with gorgeous gems
Something much more rarely done is to wear a gorgeous gemstone necklace as the mother of the bride. So if you love jewellery and want to wear something that everyone remarks on because they don't see this kind of thing, then try this option. There is such a glorious variety of unusual gemstones in all colours that suits your budget. If you have a dress in shades of cream or brown, a beautiful carnelian necklace would look spectacular.
If you love pink, how about a look like this?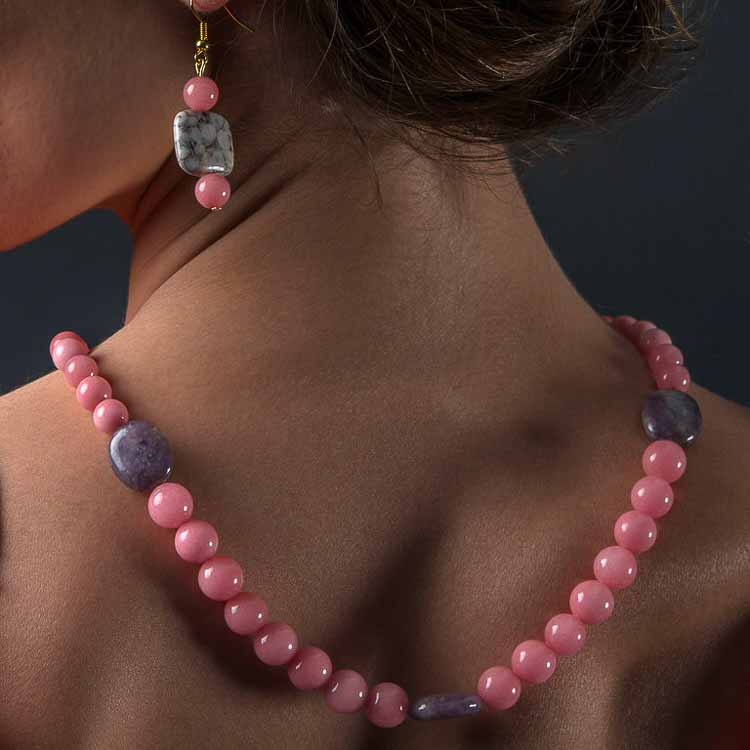 If you are wearing pastel greens, have you seen this beautiful gemstone called moss agate that looks like the moss has been captured in the stone?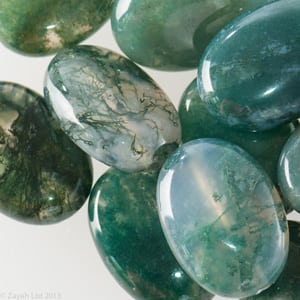 At Zayah, we love working on special orders for weddings.
Tell us what look you are going for and we would be happy to offer ideas and advice to consider.
We are frequently complimented on our eye for colours and achieving a particular look. We would be happy to give you our views on your complete look so you can be reassured that you are noticed but don't outshine the bride.
So give us a call and we'll help you plan that really special day in your daughter's life!