If you were out and about in London in the last week of September, you probably saw it was abuzz with visitors from many countries for this year's London Design Festival, LDF15. The curious thing about London Design Festival is it's only around for about a week, then most of the installations and exhibitions that everyone went to so much time and trouble to create disappear! In the words of the organisers
[LDF] . . . serves to showcase the ambition, creativity and experimentation that give London its reputation as the design capital of the world
What is the London Design Festival?
LDF is a short (7-9 day), annual celebration of design skills that brings together local and international experts, academicians, retailers and thinkers on a wide variety of dimensions and types of design.
First staged in 2003 and conceived by Sir John Sorrell and Ben Evans, LDF has gone from strength to strength and now has over 300 different venues showcasing the best of design.
This year it took the form of seven design districts spread across London, where the public were invited to see these aspects of design for themselves, viewing work up close, often with direct access to the designers involved.
Most of the exhibits were pop up concept, which meant that after the festival they were gone. However there are also a series of so-called "Landmark" projects – ambitious and extraordinary creations that the LDF commissions with the best of the best designers and architects, to form "spectacular punctuation points around the city".
One of the most striking of these was "Bullet from a Shooting Star" at Greenwich Peninsula.  More on that below, and we'll also be doing a special article on it separately.
Widely acknowledged as world's leading art and design museum, the V&A has provided a home for LDF festival since 2009.  This year, walking around the V&A was one of our most pleasurable LDF15 memories.
How to Cope with 0ver 400 LDF15 Exhibitions!
After a week covering all 7 districts, and discovering places we'd never even known of before, we found the vast array of work on display both inspiring and mind-boggling.
With so many official Design districts, and so much going on in each, there is a huge amount to take in in such a short time.  Given the length and breadth of London, we've found in the past that it's way too easy to spend more time travelling than taking in the festival.
Perhaps unsurprisingly, we've sometimes found in previous years that what we saw towards the end of a long day wasn't as enjoyable as we had hoped. We suspect painful feet may have played a bigger influence on our perception than we cared to admit!
So this year we went about things differently, and taking a leaf out of the minimalist design school textbook, went for a "less is more" approach (along with comfortable shoes!).
We were really pleased with how much more we got out of the week, and would strongly recommend doing your research beforehand and limiting yourself to an itinerary of no more than two highlights per day, and choosing another two or three items physically close to each.
For us, this resulted in 7 standout pieces, each of which we found ourselves appreciating greatly. This included a couple that we didn't expect to like that much, and one we found by accident!
[pinterest-master]
A Bullet from a Shooting Star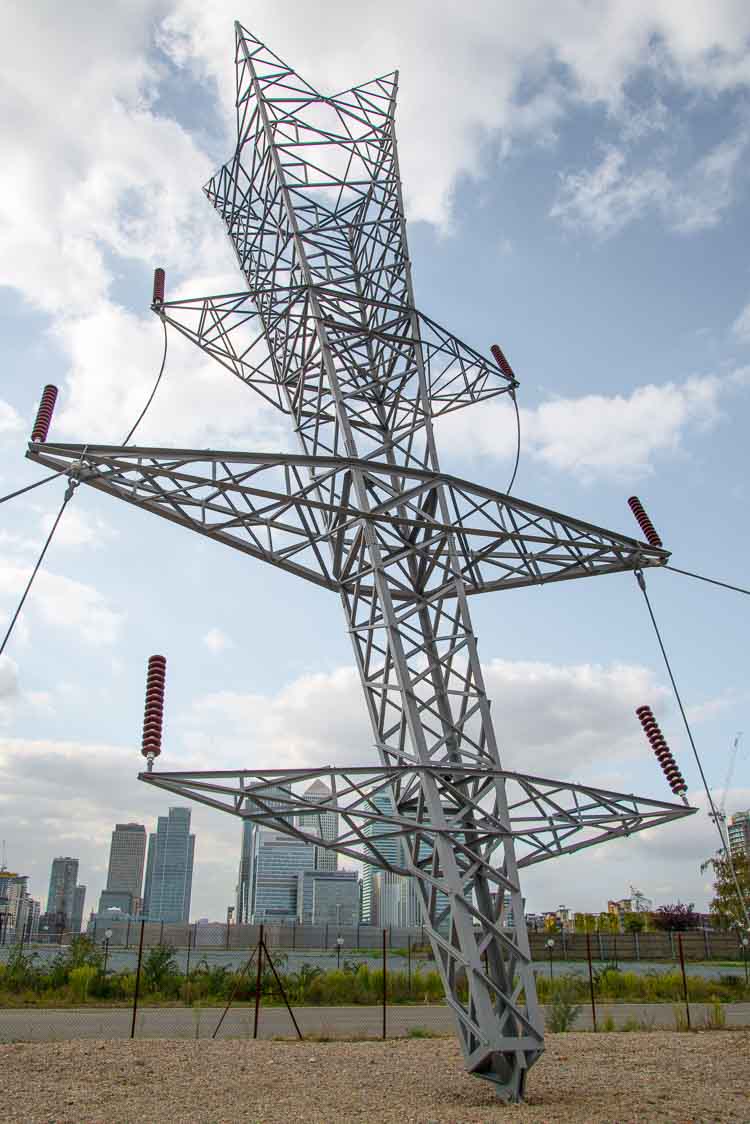 Since 2007, there's been the "Landmark Projects" that are meant to be ambitious installations and in the words of the Guide to LDF15, "represent spectacular punctuation points around the city".
Greenwich Peninsula was an LDF destination this year, and was home of the enormous "A Bullet from a Shooting Star" installation.
This is an enormous steel installation standing at what looks like a gravity defying angle because of the way it's been fixed to the ground.
The sculpture is paying homage to the industrial nature of the Greenwich peninsula, which  at a point in history had the largest oil and gas works in Europe.
This installation looks fantastic from the Emirates Cable cars, so you can experience two things at the same time!
However there's nothing to beat getting up close and personal to the installation, and we'll be doing a more detailed review of the piece shortly. In the words of the artist, Alex Chinneck,
"the spectacle is provided by the sheer scale of the sculpture and the physical feat of balancing it on its tip"
Curiosity Cloud
The designers say "We want people to be surprised and delighted." We sure were . . . !
Standing outside the Norfolk House Music Room that housed the installation, we heard a tinkling sound. That got us curious, as none of the other LDF15 installations we had seen had sound.
Walking in, we saw over 200 glass globes, some of which were quiet and still, others which appeared to be glowing and buzzing.  As we got closer, we found that the globes we approached started to get more active.
We spoke with Katharina Mischer, one of the designers. She told us that the piece is intended to remind us of the Art Nouveau movement such as Lalique.
If you've seen some of the Lalique jewellery, you'll know that some of the work from that era highlighted beautiful insects, including dragonflies and moths.
Curiosity Cloud plays on this by putting a man-made "insect" inside each bulb, representing three categories – those that were extinct, those that are common and those that have just been discovered.
These insects were hand embroidered and painted, and are made in such a way that they start to move around as people approach, moving faster as viewers get closer.
Katharina said they had wanted the audience to feel curious when they heard the sounds coming from inside the room and then to be surprised and delighted. The sounds represent shy insects getting nervous, becoming more agitated as people get closer, starting to whirl around with increasing speed, creating the clinking that we were hearing.
Stepping into the room, the insects as she predicted started to move in some of the 250 beautiful hand blown glass globes. It was fascinating that from a distance everything looked calm and but as the insects sensed us they started flitting in the globes that got faster and faster until we couldn't see them as anything other than a blur.
It seemed appropriate that it was also in the Norfolk House Music House gallery because as we were leaving the tinkles followed us.
Cloakroom
This was a fun and inventive design project housed at the V&A.  What we thought was a quirky fashion-themed exhibition turned into a treasure hunt 🙂
The first step was visiting what looked like a cloakroom where you were invited to borrow one of the 150 hip looking coats, each with a different face on their backs.
Now the V&A typically doesn't showcase fashion as part of the LDF since it's around the time of London Fashion Week. But this was an exception, since these coats were key to an individual journey round the whole institution, driven by artist Faye Toogood's take on the world.
Faye invited us to pick coats that either represented how we felt that day or just whatever appealed to us. Each coat had a map sewn into them that created a map for 10 coat installations in various parts of the museum.
"These are ten of my favourite objects within the V&A, and I've responded to each object's material, craftsmanship, or artisan maker," said Faye.
She showed us miniature versions of the coats that were in the cloakroom and it was so creative to see a marble coat sitting in the marble landing of the V&A, a wooden coat to depict the artifacts in that particular room and so on.
We enjoyed wandering around finding the coats and really appreciated how the designer has brought together her talents in furniture design and fashion in such a creative way.
Tower of Babel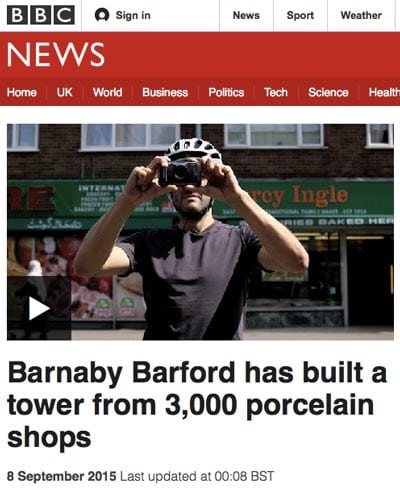 The Tower of Babel by Barnaby Barford is an eccentric perspective of London.
It's based on his mammoth exercise of photographing shops in every single London postcode, from which he created stunning china versions of what we see around us every day across the city.
Three thousand china shops were put into a six metre tower with dilapidated shops at the base, and the very highest ones were showcasing the best of London's boutiques and galleries. (You could borrow binoculars to look at the shops at the top!)
This whole installation was intended to emphasise the consumerist society we live in.
Barnaby cycled up to 50 miles a day to photographs the shops, which he then shortlisted, selected and fired into the china. You can watch a video of Barnaby explaining the project by clicking on the image, or going to http://www.bbc.co.uk/news/magazine-34138763
All the shops by the way are on sale with obviously the maximum being for the top end and the lowest in the tower being the most inexpensive. Many of us booked a shop in our postcode to keep as a souvenir.
A Sense of Jewellery
Obviously our list was going to have some jewellery in it 🙂
Arriving just after opening on the first day of the Goldsmith's exhibition meant that there was a sense of peace while going around and looking.
The theme was 40 artists showcasing 40 years of work, so it was an eclectic mix of stunning jewellery from precious metals as well as jewellery from recycling a mobile phone.
What we appreciated most about the work at Goldsmith's was the sheer breadth of materials used and styles on show – a tribute to the imagination as well as skill of the designers.
We will have a separate gallery of some of the pieces that caught our eye.
Origin of Tomorrow
PriestmanGoode is a state of the art design firm that has provided design and creative input for a wide variety of products. Their "Origin of Tomorrow" exhibition showcased some of the design aspects of travel that they have been involved in.
The one that caught our imagination was their work with Paragon Space Development Corporation on a project that will allow passengers to take flights to the edge of space where the Earth's curvature and the blackness of space can both be seen.
The PriestmanGoode video about Paragon Space on their website is just inspiring . . . Have you signed up yet?!
Minimalism & Elegance of Japanese Carpentry
From outer space to minimalism, we loved much of the more intricate, delicate design work scattered throughout London all week.
Some of the most satisfying pieces we discovered were almost hidden away, and we were fortunate to come across Native & Co in Notting Hill while searching for somewhere to get a decent coffee.  As we wondered around, we passed their window and found ourselves completely forgetting the coffee!
They were showcasing some beautiful Japanese carpentry in their exhibition, "Kanna", and we were so very impressed by the elegant simplicity and exquisite attention to detail. We love photography at Zayah, and we found that the emphasis on shape, form and texture in the pieces on display brought to mind some of the most satisfying images we've seen.
Below is one of the images from their Instagram site which typifies much of what appealed to us.
So that's LDF for another year, and you've seen our our favourites here. We're going to do a couple of other articles shortly on two days that particularly stood out for us. One at Greenwich where we got close up to Bullet from a Shooting Star, and focused on the lines, textures and detail that are often overlooked in such a massive statement installation. The other was an afternoon at Bankside, centred on the Oxo Tower. We were very taken with the work from a set of artists who used different materials in a way we really admire. Those who know our jewellery are very aware of our deep interest in alternative materials, and we had a field day there!
We'd love to hear your thoughts on LDF15.