Did you know that name pink for the shade of light red came about from the flowers called "pinks", members of the Dianthus family? Pink is believed to be the embodiment of femininity, sweetness, childhood and so no surprise that it's often the colour that little girls love :-). It's also associated with love and so now seen as the colour of Valentine's Day.
But, hold on, did you also know that a century ago, pink was associated with boys and blue with girls?! A trade publication, Earnshaw's Infants' Department reported in 1918 that "pink, being a more decided and stronger color, is more suitable for the boy, while blue, which is more delicate and dainty, is prettier for the girl."  This belief seems to have been held for a couple of more decades before pale pink was associated with girls and navy blue was seen as a masculine colour.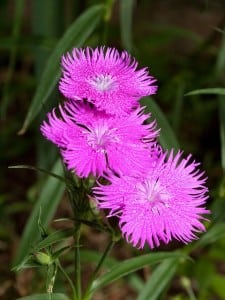 Blush, bubblegum, cerise, flamingo, magenta, peach, salmon, strawberry are just some of the shades of pink out there. So what's your favourite shade?
Here's a pinterest board that showcases lots of things pink. Want to see some of our jewellery in this colour? Follow this link.
(PS If the board isn't showing above, refreshing your browser should make it appear, or you can click on this link to see it on Pinterest.  The problem is usually a technical one at Pinterest's end )