The Story Behind the Zayah Jewellery Woodpecker Necklace
Our sister company, Zayah Jewellery, creates hand-made distinctive jewellery from their studio in Greenwich, by the River Thames.  This is the story of one of their most popular pieces, the Woodpecker necklace.
In the South East of London, where we are based, it isn't uncommon to see a wood pecker called the Lesser Spotted Woodpecker come onto the local garden trees. Hearing and watching them drilling away on the trees was a lovely way of taking a break. We marvelled at the speed that its head was moving as it tried to find worms in the trees. Isn't it great that these birds don't suffer from work based headaches?!
This was at the same time we were working on the Nature's Beauty collection. It was then an experiment to see if we could take a look at something we loved and be able to come up with a piece of jewellery.
So the starting point was looking at the woodpecker, then looking at other species too, just to get some more ideas. We finally decided to go with a slightly different species found in North America, called the Red Bellied Woodpecker or the Melanerpes carolinus. Despite the misleading name, most of the red is on its head! What we loved about this woodpecker is the subtlety of colour moving from shades of a greyish or brownish white to the monochrome black and white in a barred pattern and the lovely reddish orange shades.
We wanted to convey the colours of the woodpecker rather than the shape or anything else. So it was the brightness of the reddish orange, the barred pattern on its wings and all framed wth the brownish white we saw on the body of the bird.
Some whitish wooden beads, with mother of pearl and blackstone chips to provide the barred pattern and a bright red orange set of wooden rectangular beads carefully interspersed with some orange Swarovski bicones seemed to be a perfect way for our designer to represent the Red Bellied Woodpecker.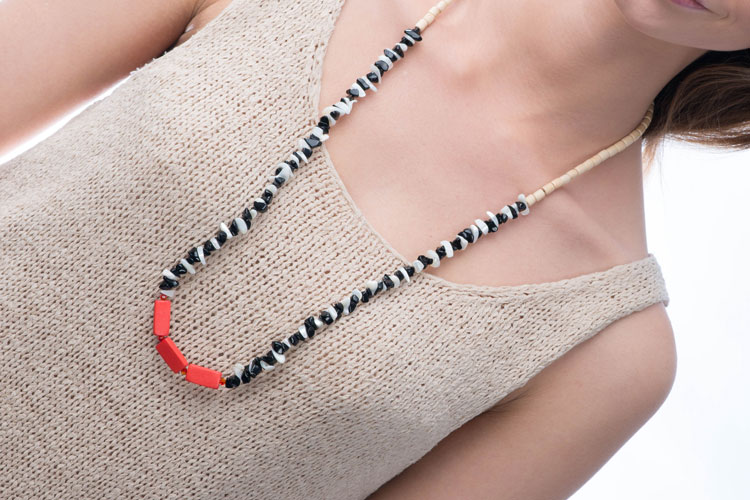 It was good fun designing this particular necklace and is one of our favourite pieces. Every time we see this necklace, it brings back fond memories of the litte bird that started us on the challenge of creating the piece.
You can find this necklace in the Zayah Nature's Beauty range.