Rebecca Struthers is one of the most innovative watch designers in the world today. She and husband Craig push the boundaries of watchmaking with their peerless blend of traditional and modern practices
Rebecca and Craig have created their own, unique path to the top, and follow it with passion. We asked Rebecca about two aspects of their journey that lie close to our own hearts at Zayah:
Their blending of the best of traditional and modern ways of working, informed by appreciation of history and open-minded curiosity about the present and future
Their collaborative approach to their craft, bringing together other experts to create together something no single organisation could achieve.
We looked at how this comes through in their work, with 3 of their exquisite watches; then briefly explored Rebecca's experience as a woman making her way in this traditionally male discipline.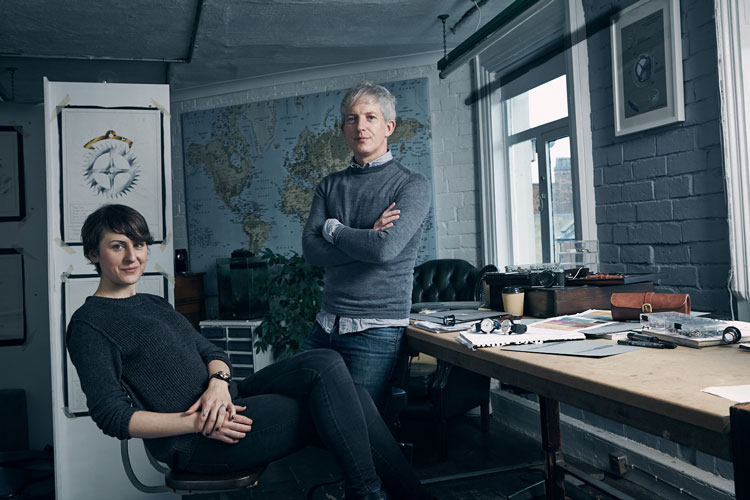 Who is Rebecca Struthers the Watchmaker?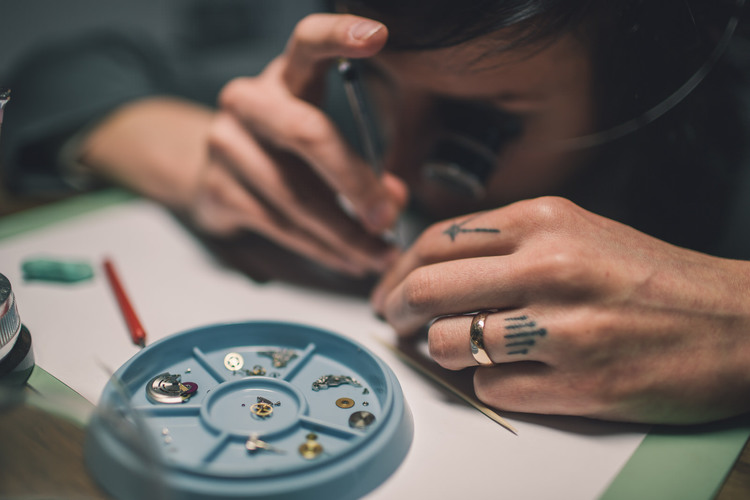 Part of Rebecca's appeal (or challenge to some in the industry), is that she doesn't fit neatly into any pigeonhole, let alone one that fits industry tradition.
At school, they couldn't accommodate her interest in both science and art.  Rebecca chose the science path, since art was treated as "pretty much on a par with running away to join the circus".  However, she found that "quite soulless, so I dropped out after a year to run away to art school and study jewellery and silversmithing".
Studying science at school before discovering art isn't that uncommon. What we found interesting is what she discovered about herself next: "After two years studying Art & Design, I found myself missing the discipline of physics and engineering in my work".
This blend of what others consider polar opposites is not only key to who Rebecca is professionally, but also of how she sees watchmaking.  Hence her distinctive take on a field which can show such schizophrenia towards new ideas:
"[Watchmaking is] the perfect balance of art & creativity with science & precision. It gelled two passions I had previously thought incompatible into one!"
Another key dimension of the person behind the watches is her love for the history of her craft. Describing herself as an antiquarian horologist is no idle boast – when she completes her PhD next year, she will be the most relevantly qualified watchmaker in British history.  She is also a founder and the public face of the Antiquarian Horological Society's Wristwatch Group.
What Does Struthers Watchmaking Stand For?
We wondered whether this unconventional background translates into an equally interesting position on their craft and creations. We weren't disappointed.
The pride in balancing new trends and technology with traditional craftsmanship of past centuries shines through in every conversation.
There aren't many places where hand-forged buckles, articulated jewellery, computer-aided design, gimbal-driven movements inspired by 18th century marine chronometers, rapid prototyping and resin modelling are all at home.
But it's not just the mechanical and engineering appreciation that come across strongly: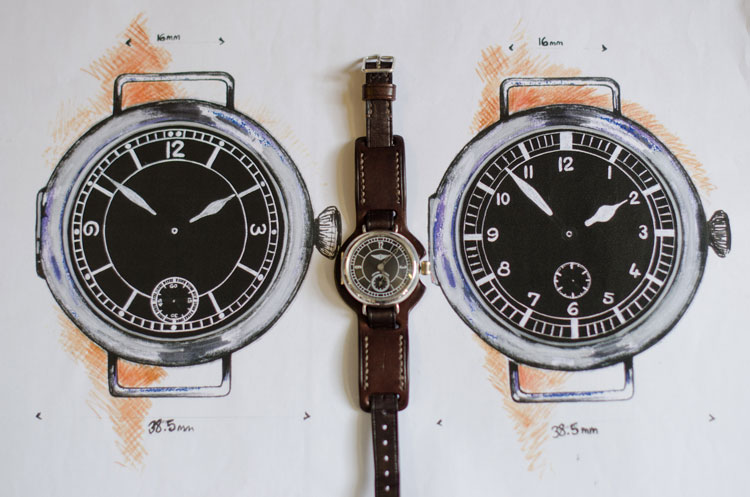 The art and jewellery origins show in their aesthetics-led design process.  These all come together when Rebecca talks about innovation in watch design, for example in these three illustrations of the essence and personality of this still young watch brand:
"[Watchmakers today] rarely challenge the conventional norms pushing their designs beyond the classic wrist or pocket watch"
"There is still a demand to apply traditional craft in the 21st century to create new products, and now we've got people's attention we're looking forward to showing what we're really made of"
"[We want to] see how far we can push the boundaries of British watchmaking"
Creating a Struthers Watch
Their bespoke watches come to life through a design process that embodies their creators, and is unlike anything we've seen elsewhere.
To be fair to similarly priced (typically 5 digits rather than 4 or 6) competitors, different customers perceive value in different ways.
Struthers watches are unlikely to appeal to many typical buyers of exclusive watches – think Premier League and property tycoons.  The kind of customer they seek and vice versa is someone who sees an appeal in thoughts and words like these:
"At present we offer the most bespoke service in British watchmaking. We design and make bespoke watches using vintage and antique movements, hand-making the cases using both modern technology and centuries old traditional skills."
We see 4 key ingredients to how they achieve this:
Collaboration of Experts;
Aesthetic-led Design;
Best of the Past; and
Best of the Present and Future.
Collaboration of Experts
The interplay of disciplines and collaboration of experts is where the magic begins, a 300 year old tradition revised to take advantage of modern technology and techniques.
Masters of different crafts work together to create the very best for each element of the design and finished product.  The disciplines Rebecca and Craig bring to the party range from watchmaking to jewellery, through gemology, silversmithing and illustration.
But despite their diverse skills, the finished work also relies on experts in leatherwork, casting, engraving, stone-setting, CAD, resin modelling and even furniture-making, for example furniture designer of distinction, Howard Butler pictured below.
This interdisciplinary exchange was at the heart of Britain's past leadership in fine watchmaking, and has been re-created for the modern era by the Struthers.
And it doesn't just hark back to watchmaking traditions.  It's a familiar refrain for anyone familiar with the wider Arts and Crafts Movement pioneered by William Morris.  That too was a backlash against modern manufacturing methods of the day, which prized technology and efficiency over design, creativity and craftsmanship.
Outsourcing, vertical integration and supply chain management are everyday features of today's business world, so at one level this type of collaboration is nothing radical. The difference here is in the why and how Rebecca and Craig work with others.
This is nothing to do with cost reduction, efficiency or globalisation. It's about craftsmanship and passion, communities of like-minded artisans working together almost obsessively around a single, uncompromising goal.  It's about the finished product for its own sake.
For example, a leather strap may come from strap-master Christopher Clarke of Shrewsbury, who hand-writes his correspondence to this day. 
Before selecting a leather (including stingray and eel), Rebecca and he will carefully decide the right number, size and spacing of holes for the customer.  If you want a leather strap – which Rebecca prefers on her own wrist to metal – you'll get the ultimate leather strap.
Aesthetic-led Design
We were keen to understand how concept and customer needs translate into a design, and started by asking Rebecca about the age-old chestnut of art vs design:
"In a very brief nutshell . . . design serves a practical function whereas art has no boundaries and that art as a practice refers to mastering technique in your specific field; so while you would design a watch, watchmaking is an art."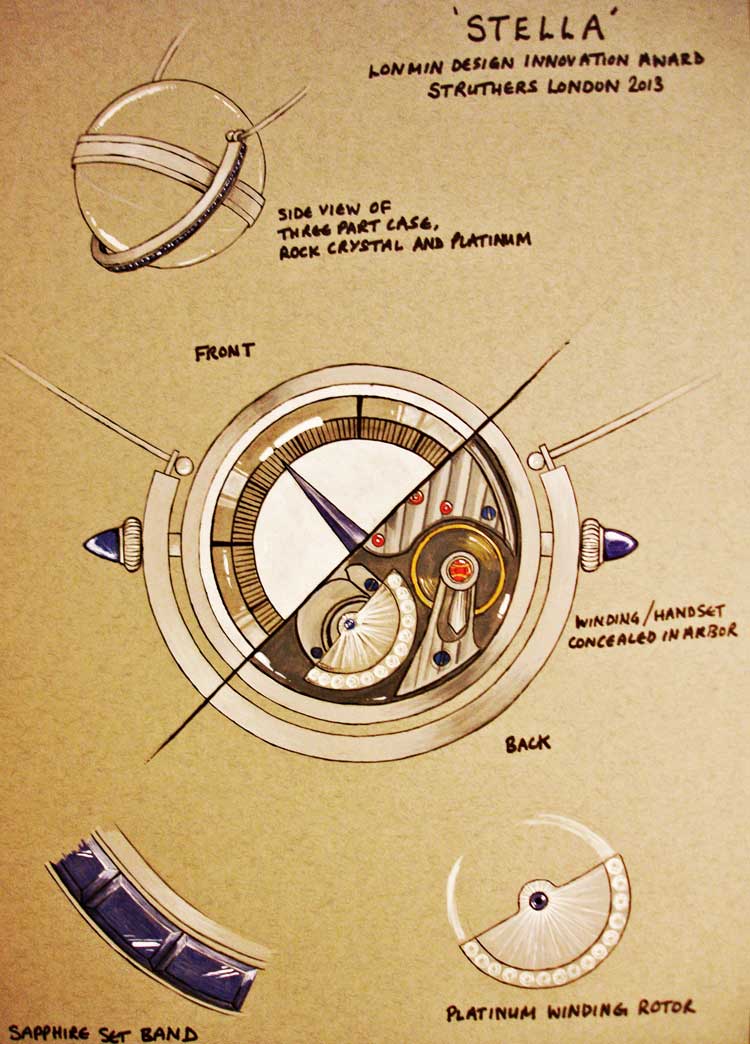 Of course watchmaking at this level is about both. But one difference we see here compared to other watchmakers is the way aesthetics leads, and the technology and other design choices follow.
They start by focusing on the right external appearance to visually fulfil an idea or commission.
Only then is the technical design developed along with a movement.
"The aesthetic look of the watch is the most important thing to us, from the integrity of the form to the quality of the finish; which is why we always lead with the exterior design and concept then use our watchmaking know-how to realise the piece.
For us designing a case to suit the movement isn't what excites us. We love the challenge of coming up with really innovative designs then pushing our boundaries as watchmakers to find a way to make them work."
The art background and bias also show in small touches like the use of mood boards early on – not a term you'll hear in most watchmaking circles.  And despite the use of modern technology, designs are presented to clients as Craig's hand rendered paintings, to discuss and select from.  Again, not something commonly done today.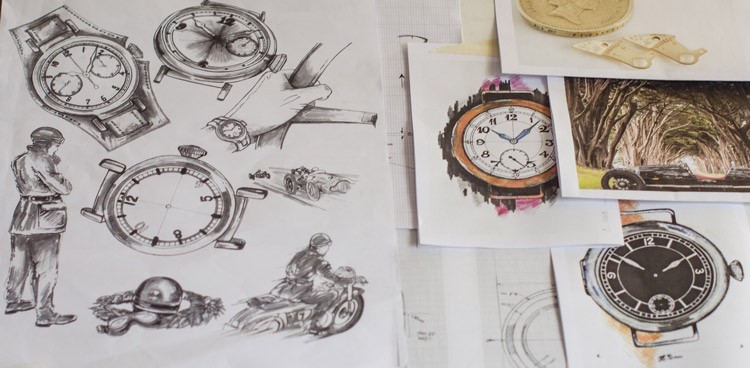 Best of the Past
Another characteristic to highlight is the emphasis on the old ways of watchmaking in a modern context.
Again, this is best described in Rebecca's own words:
"Being both a watchmaker and a historian, I'm very much looking forward to busting some of the myths modern marketing has spun about the history of our industry. At a time when we're all looking to the future of British watchmaking, there couldn't be a better time to look back, learn from our mistakes and design a better future."
This isn't just an aspiration, but backed up with hours of painstaking work.  The best example is how they spent many months recovering thousands of vintage and antique movements destined for the bin by bullion dealers.
After restoring and modifying these, they now have rare Swiss, English and American movements to re-build into new watches, a few of which are pictured below.
This means clients can select a movement from a particular date or period in history, making their Struthers watch as distinctive on the inside as the outside.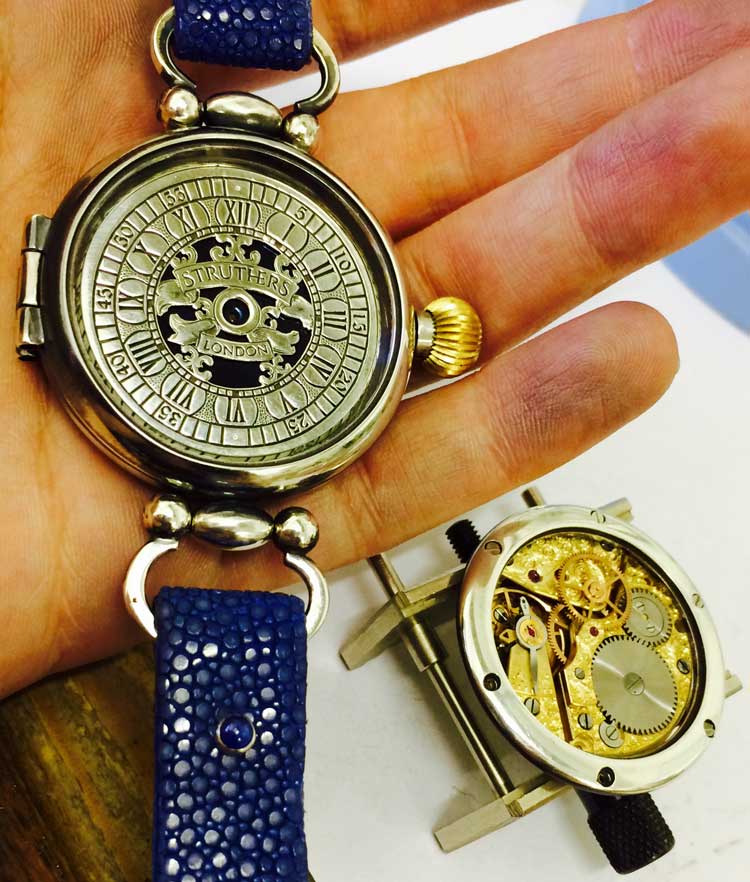 For example, the duo used the Omega 30TS series movement for their first collaboration with the Morgan Motor Company, more of which later.  As well as being in keeping with the ethos of the watch, this movement can be matched to the year of each customer's birth.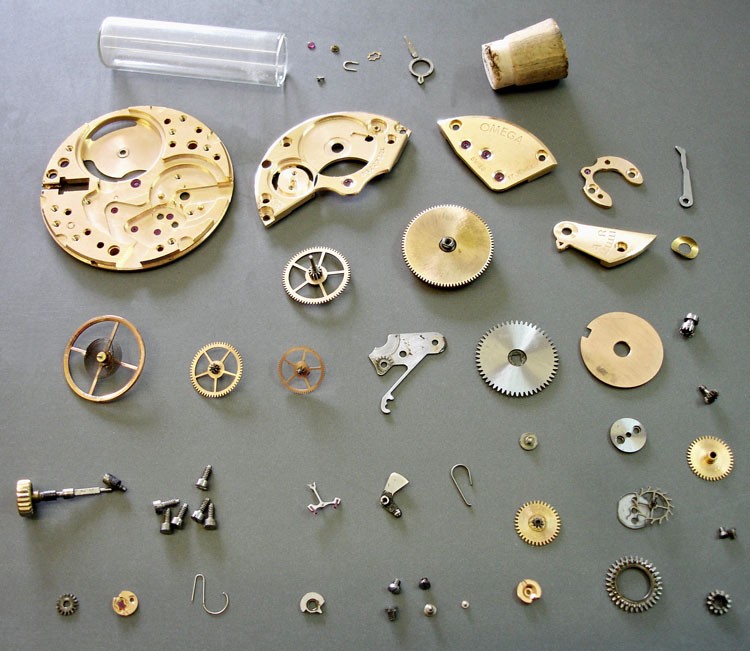 Best of the Present & Future
But the aspect of linking to the past we find most appealing is how the approach also incorporates the best of today's and tomorrow's technology and developments.
They believe the way they combine contemporary design and technology with traditional skills sets them apart, and we agree. The Struthers have created a balance between old and new by using traditional techniques like joint making, burnishing and forging alongside modern Computer Aided Design (CAD) and rapid prototyping.
This leads to a unique watchmaking philosophy, based on the oldest watchmaking traditions, but accommodating modern advances without allowing them to take over.
Bringing The Struthers' Philosophy To Life
These three examples illustrate how these design characteristics come together to create unique products that epitomise the best of British watchmaking today.
Struthers for Morgan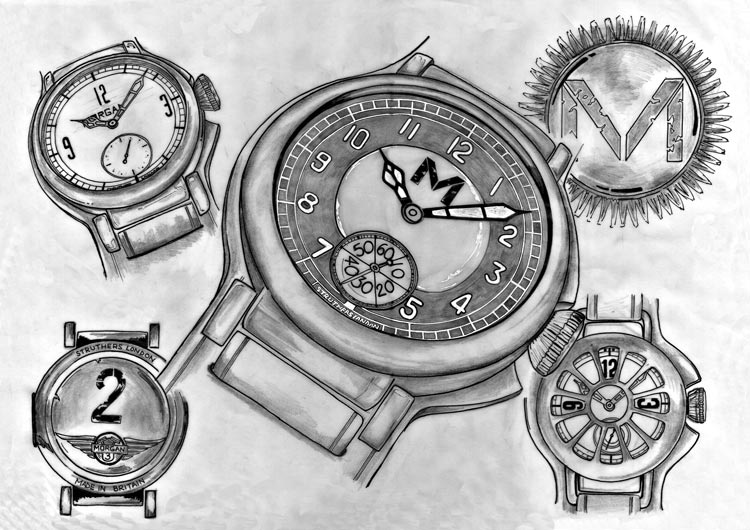 Those who know cars, know that the Morgan Car Company is in many ways an automotive version of Struthers, and their close collaboration is very apt. 
Struthers has developed the "Struthers for Morgan" watch with Britain's last family owned independent motor manufacturer. And Morgan is a London base for Struthers customers who can't make it to the workshop in Birmingham.
Like Struthers watches, Morgan cars aren't for everyone. Those who only value modern automotive excellence probably won't get why there's such a long waiting list and passionate following.  But those who do get it, won't make do with anything else if they can afford it.
SfM respects some of the most important characteristics of both brands, from hand-built production techniques to locally sourced suppliers, with an attention to detail that leads to over 2,000 options.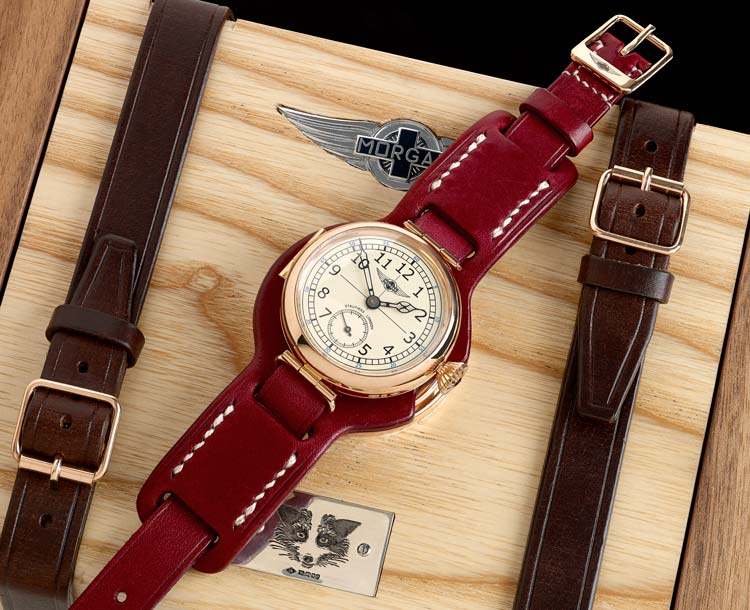 The aesthetic-led design process means the watch immediately looks like a member of the Morgan family. Even without a Morgan logo on the dial, you see the resemblance to any 4/4 or Plus 8.
A nod to history is the "trench" style, dating back to Morgan's 1909 beginning. There's something nostalgic about knowing the earliest Morgan owners would have worn watches of a similar style to today's SfM.
Collaboration comes across in the details that make it as much a Morgan as a Struthers.  For example, the burgundy leather is matched to the car trim, walnut panels in the box mirror the dash, and the in-house made solid silver dial is fired with cream ivory hard enamel to match the paintwork.
Stella
Stella is the first Struthers watch to win a design award, and we're confident it won't be the last.
It shouldn't be a surprise that the watch won a jewellery award, the Lonmin Design Innovation Award. This was set up to "recognise and reward outstanding design in platinum and to push the design standards of jewellery to greater heights."
We found it interesting that it was a response to a competition design brief, and not a customer need.  The theme was "Urban trends, New Frontiers", and competitors were asked to design a piece of jewellery "with platinum as the hero of the story" that "subverted or evolved the conventions of traditional platinum jewellery".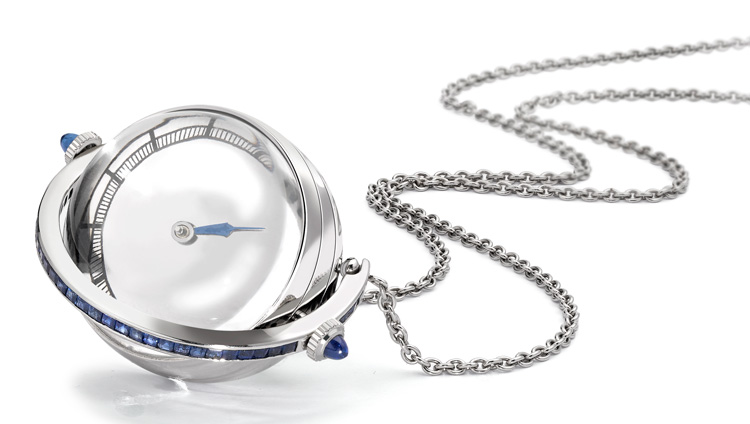 The Struthers response was to push the boundaries of self-winding watch design, creating a pendant watch powered by the movement of the case rather than the wrist.
There was also a reference to history with the use of a solitary hour hand, just like the earliest pendant and wrist watches of 17th Century Europe.
Aesthetically, the watch is inspired by the decadence of Art Deco, and is intended to be wearable luxury, not just wearable art. Rock crystal hemispheres are set into platinum bands front and back, framing the visible watch movement.
This contains a spinning ball rotating on a platinum axis, inspired by the gimbal in early ship chronometers.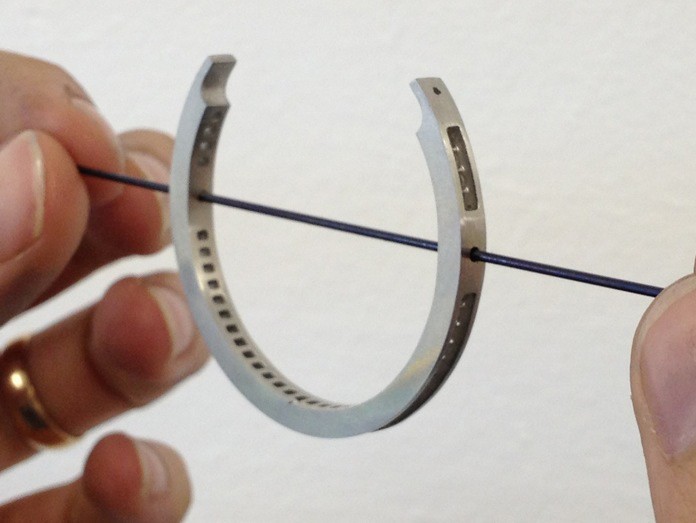 One of the major technical challenges included meeting the exacting tolerances required, particularly involving platinum.  While the look was reminiscent of earlier times, standards of (in)accuracy of the day wouldn't have been acceptable – up to an hour a day!
Struthers had to find partners who could meet these demands, and collaborated with experts in casting, CAD, polishing, stone cutting and stone setting among others.
They clearly met their goal of redefining use of an automatic watch movement.  And have gained knowledge and contacts to push boundaries even further in future.
Regency
Regency is another jewellery-inspired watch, this time combining three different eras.
The centre is pierced, as was popular in the late 18th Century, to expose the underlying blue finish. The dial is hand engraved silver, decorated in the Champlevé style – originally a form of enameling which goes back beyond watchmaking, to at least Celtic times.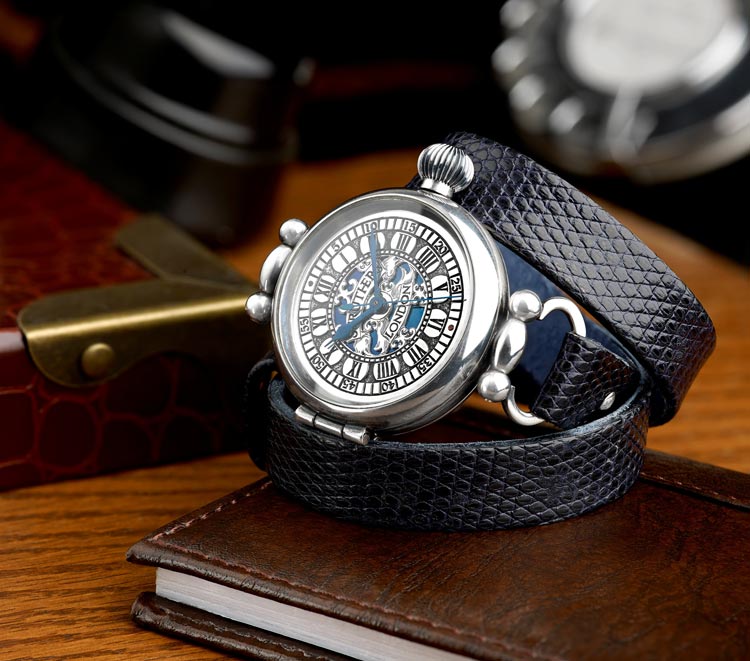 The innards use state-of-the-art technology, but decorated using some of the oldest techniques and approaches known to watchmakers.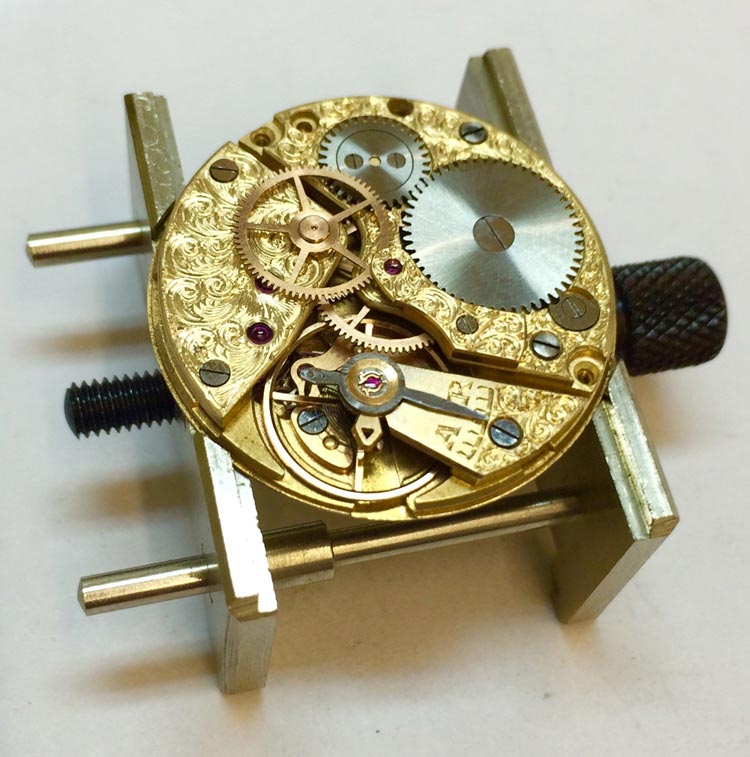 The mechanical intricacy extends to the exterior as well as the movement.  For example, the "trench" style case includes lugs and buckle made from 19 separate pieces, and a 4 piece jointed back and bezel.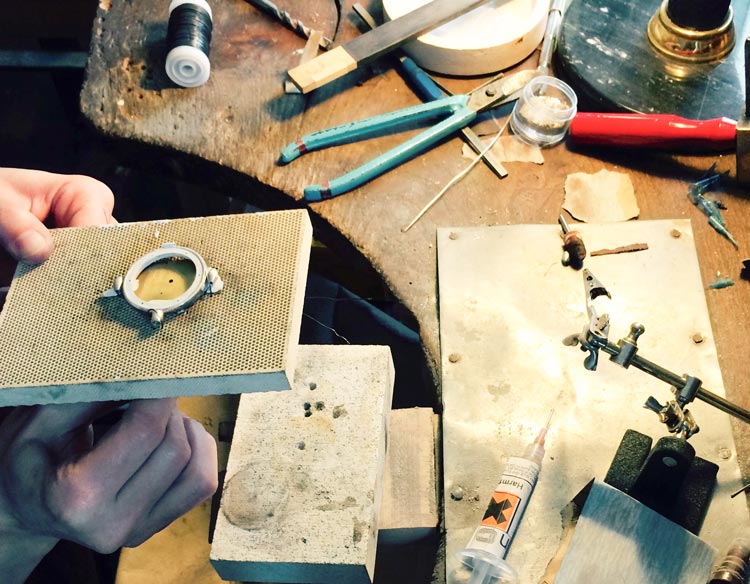 Small details such as these make a big difference to the type of wearer they attract, for example the watchstrap buckle.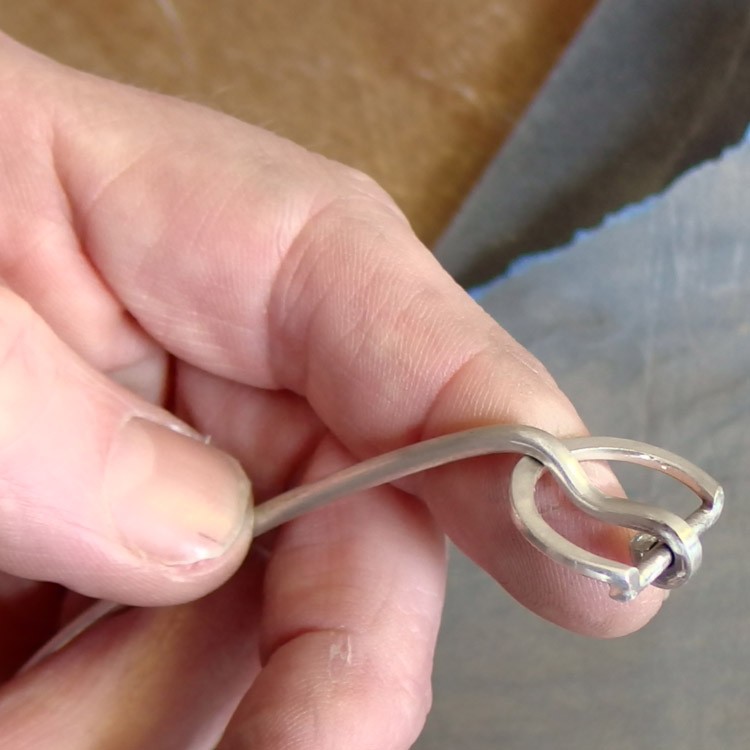 Also the typical Struthers feature of a hidden second back with a sapphire crystal inspection plate.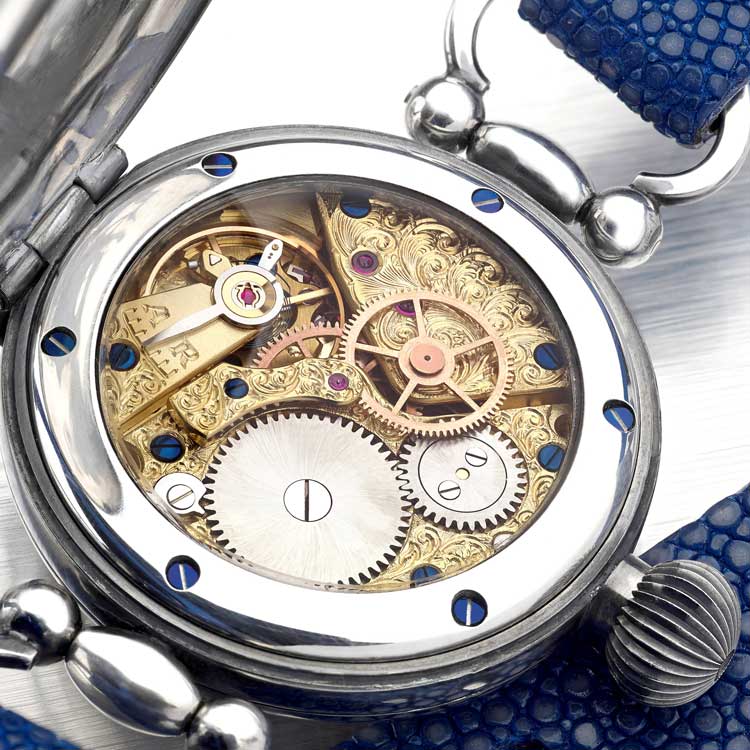 Nine Women in a Man's World
Before closing, we wanted to briefly dwell on whether the fact that one half of the Struthers team is a woman is a factor in their distinctive approach to their work.
Firstly, we wanted to see how accurate our stereotypical assumption was that watchmakers are mostly men.  Unfortunately, we found our assumptions were wrong, and the world of horology is even more male-dominated than we'd thought.
We could only find reference to 9 female top-end watchmakers in the world, of which only 4 were named.  There may well be more, but the point is they aren't easy to find.
To understand this a bit better, we looked at the body which represents the world's masters of independent watch-making, the AHCI (Académie Horlogère des Créateurs Indépendants) – based, of course, in Switzerland.
This association says it wants to "perpetuate the art of independent watch and clock making" and "attract the world's most creative independent watchmakers".  Its members have a strong pride in their status: "Our art is unmistakably singular and exclusive. We are 35 watchmakers from 11 countries, each one with a different interpretation of the art of watchmaking."
Why is this relevant to our article?  Because of there is only 1 woman in the 46 watchmakers they represent, Eva Leube of Germany. And she is one of 4 "candidates" being considered for membership, in her case since 2011 . . .
What does Rebecca think of being a woman in this industry, one that can still describe Craig as "London master watchmaker" and her as "willowy"?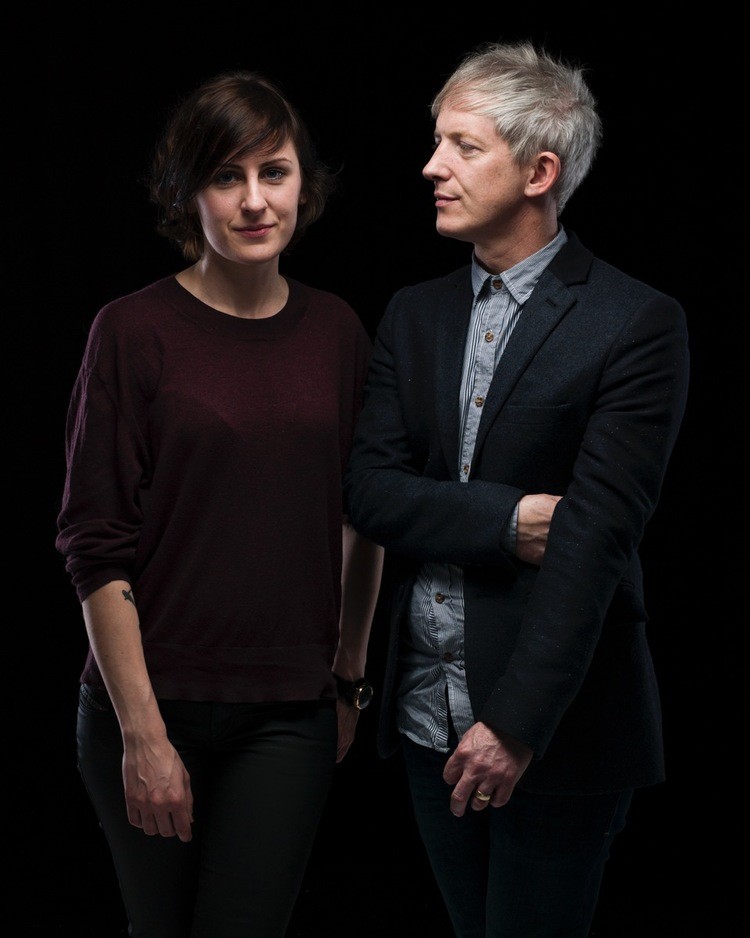 "When I was first interviewed for the horology course one of the panel asked me whether I felt comfortable with being in a workshop full of older men, to which my cocky younger self retorted 'well I hope they don't find me a threat if that's what you mean?'.
Since then I've been told that the workshop isn't a place for women, that they would never hire a woman for a certain role so give up now and that a young woman can't maintain authority over older men.
I got to a point where I gave up on trying to please other people and decided to start putting myself first and funnily enough made much faster tracks in my career.
When I finish my PhD at Birmingham City University in 2016 I'll become the most relevantly qualified watchmaker in British history and I'm already senior to the people who gave me a hard time in the past, so I get the last laugh really."
Our tentative view is that gender probably has little influence on the work itself, but plays a significant role in attitude and outlook.
We wouldn't want to overstate the link, but it's perhaps not complete coincidence that this team carries a strong sense of wanting to show the industry what's possible, and is already renowned for breaking new ground in all sorts of ways.
What Do We Think?
Usually we try to stay equivocal about claiming favourites we write about, be it  jewellery, art, even shoes. But when it comes to watches, Rebecca and Craig represent so much of what we believe in and stand for at so many levels, that:
If we were looking for a bespoke watch, they're the only people we would go to!
They're unlike any other designers we've come across before, regardless of field.
Their place on the boundaries of jewellery, art and design is one with which we strongly identify, and believe that it's on such boundaries that great creativity can appear.
We believe history and an understanding of the past is key to appreciating the present and shaping the future, but ideally without losing curiosity about modern technology.  And that gives us something else to appreciate about Struthers, especially as it shows so directly in their work.
Finally, as fans of the Arts and Crafts Movement, keen to bring that thinking back to today's creative professionals, we greatly admire and respect the collaborative nature of the Struthers design process.
We're really looking forward to watching their business and work evolve in the future.